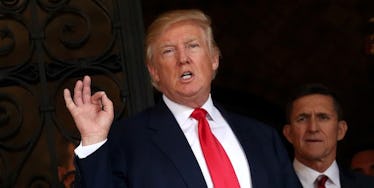 Twitter Relentlessly Trolls Trump With Mar-a-Lago Pic After Lame Leak Excuse
REUTERS
President Donald Trump tweeted something very bizarre — which is something many likely find themselves thinking every morning — on February 14 in the wake of the resignation of Michael Flynn.
Trump seemed to blame "illegal leaks" for Flynn's resignation, not the dubious nature of his communications with Russia.
Flynn, now Trump's former national security adviser, resigned on Monday night after a number of intelligence leaks and the work of investigative journalists revealed he had discussed US sanctions on Russia with Russian ambassador Sergey Kislyak prior to Trump's inauguration.
His communications with Russia could constitute a violation of the Logan Act, which forbids private citizens from meddling in foreign policy.
Flynn's resignation came after the Justice Department warned the White House he had misled the Trump administration about the nature of his communications with Russia and could potentially be vulnerable to blackmail by the Russians.
This was when Sally Yates, whom Trump recently fired, was still acting attorney general.
"I inadvertently briefed the Vice President-elect and others with incomplete information regarding my phone calls with the Russian ambassador. I have sincerely apologized to the President and the Vice President, and they have accepted my apology." — Michael Flynn's resignation letter
To put it simply: This is all extremely sketchy and potentially compromised Flynn in a major way.
Trump, who once said he loved WikiLeaks in relation to the damage it caused Hillary Clinton's presidential campaign, is now apparently not a fan of leaks.
This also comes after Trump dealt with a national security crisis in public at his Mar-a-Lago resort in Florida.
The president might as well have broadcasted this meeting on Facebook Live.
People are trolling Trump with pictures of the incident, which were taken by a guest (not a member of his administration with security clearance).
Check out this photo with the man who carries the nuclear football — the briefcase that allows the president to conduct a nuclear attack when not at the White House (among other locations).
This is not normal.
Just to be clear: It is highly irregular and deeply disconcerting for a president to deal with a national security crisis in the view of the public. These type of matters necessitate the utmost discretion.
Long story short: Trump has shown very little care when it comes to issues pertaining to national security, especially in relation to potential leaks. On top of the Mar-a-Lago incident, there's evidence Trump is still using an unsecured phone.
Yet, throughout his campaign, Trump attacked Hillary Clinton for her use of a private email server, and at times called for her imprisonment.
So, he's arguably an enormous hypocrite to complain about leaks in relation to the chaos currently plaguing his administration.
The real story here is not "illegal leaks," it's the fact a top adviser resigned within the first month of Trump's presidency due to controversial communications he had with the Russian government, adding to the suspicions many already have about Trump's relationship with Putin and Russia.
Trump's tweet is meant to distract us from reality.