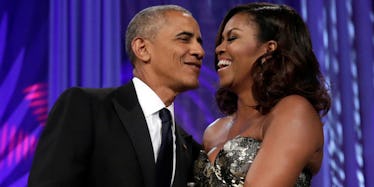 Pic Of Obamas On Final Date In Fave White House Spot Is So Romantic, You'll Cry
REUTERS
It's safe to say the marriage between Michelle and Barack Obama is fit for a romance novel, and watching sparks fly between the lovers never seems to get old.
For eight years and counting, we've seen the Obamas swoon over one another and treat each other with the utmost respect, both inside the White House and out.
Thanks to Michelle, we get to take a final look at the happily married couple arm-in-arm in an ever-so romantic spot, the Truman Terrace.
Our FLOTUS posted a picture Wednesday night of her and her hubby holding onto each other as they gaze into the distance at the Washington Monument for maybe the last time.
FYI, you should probably grab a few tissues because this photo will make you sob.
THEY. ARE. PERFECT.
I can only hope for a relationship and marriage as pure and loving as the Obamas someday.
In Michelle's Twitter post, where the photo was originally shared, she thanked her followers and said,
Being your First Lady has been the honor of a lifetime. From the bottom of my heart, thank you. -mo
Oh boy... here come the tears, once again.
Please don't leave.
We aren't done crying yet, though -- keep those tissues out, folks.
On the same day the sentimental photo was taken, Michelle took a final stroll through the White House and slowly said her goodbyes to the building which housed her and her family for the past eight years.
The heart-wrenching video shows Michelle walking down a hallway and calling for their pups, Sunny and Bo.
She then walks around with her dogs, reminiscing about the past eight years.
Michelle posted the video onto Twitter to document the touching moment, and wrote,
Taking it on one last walk through the People's House.
Between the video and the romantic photo of her and Barack, Michelle has us all ugly-crying at the thought of them moving away.
But wherever they are, the Obamas will be an inspiration in the world of relationship goals.
I'm going to go stare at the photo of them on the terrace and cry a little bit more.