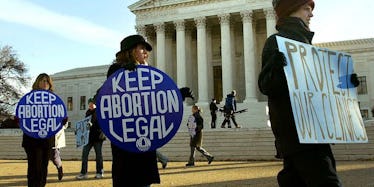 One State Wants To Discriminate Against Women Using Birth Control
Mark Wilson/Getty Images
The city of St. Louis passed a law in February of this year that made it illegal for employers and landlords to discriminate against women because of their reproductive health care choices.
However, it seems Missouri wants to turn this law on its head.
This week, the Missouri Senate approved a bill that would legally allow landlords and employers to discriminate against women who are pregnant, on birth control, or have had an abortion, according to Bustle and HelloGiggles.
Should this bill pass, it will be legal for an employer to fire a pregnant employee or refuse to hire her in the first place after learning she is on birth control. The same goes for a landlord who is selecting tenants, though a woman's reproductive health shouldn't be the concern of her boss or her landlord. Health clinics can also face unexpected inspections with the passing of this bill.
Reproductive rights have certainly been a popular topic of discussion since Donald Trump took office.
Quartz reported that the president's 2018 budget proposal called for a large sum of money to "extend abstinence education and personal responsibility education program" all the way until 2024.
This isn't the first time that the president has come under fire for disregarding women's health care.
Things like postpartum depression, cesarean sections, surviving domestic violence, and rape are all grounds for coverage denial under the president's American Health Care Act.
People have become particularly upset with the fact that Ivanka Trump hadn't spoken up about women's health, though she continues to act as an advisor in her father's administration.
These issues remain ongoing.
Next week, the Missouri House will convene to possibly approve the legislation as is and pass it along to the governor. The other option would be to negotiate with the Senate for adjustments.