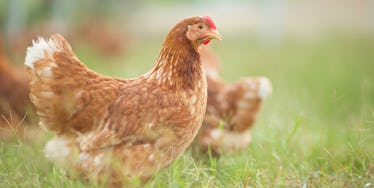 Politician Breaks Chicken's Neck To Support Bill "Stopping" Abortion In Video
Shutterstock
Some people will go to any length to make a political point.
Take Missouri Republican state Rep. Mike Moon, who recently posted a video of himself slaughtering a chicken by breaking its neck and ripping its heart out.
Believe it or not, he was attempting to discuss the issue of abortion via this video.
In the video, which was posted on Facebook, Moon killed the chicken and announced a bill he's introduced to "lead to the stopping of abortion in the state of Missouri" ahead of a special session on abortion announced by Governor Eric Greitens where lawmakers are discussing abortion laws this week.
As he dismembered the chicken, Moon said,
God gave us man dominion over life. He allows us to raise animals properly and care for them and then process them for food so we can sustain life. And that's what I'm doing here with this chicken.
WARNING: Some might find this video disturbing.
At the end, Moon told people to "stay tuned." After watching him kill a chicken, it's hard to believe many would be inspired to do so.
After some Facebook commenters expressed how disturbed they were by the video, Moon claimed he wasn't trying to "make the comparison" between slaughtering a chicken and having an abortion.
But, as The Huffington Post pointed out, Moon seemed to contradict himself in a subsequent tweet, when he said,
Some people seem to be freaking out about the chicken video... I wonder if they know what an abortion is?
Speaking about the video with The Missouri Times, Alison Dreith, the executive director of NARAL Pro-Choice Missouri, said,
What Mike Moon does with a chicken in the privacy of his home is his own business. But we will not let him use the rights of women across Missouri as some kind of political prop. His call to ban abortion is disturbing and dangerous, no matter what he does with that chicken.
According to The Missouri Times, Moon, who's been in office since 2013, has been "perhaps the most vocal and far-right abortion opponent in the Missouri General Assembly."
Moon previously generated controversy in February 2017 when he filed a bill that would require the state museum to have an exhibit on abortion.