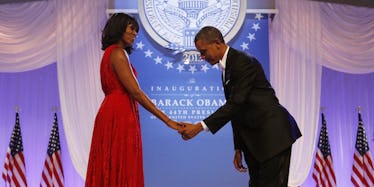 Michelle Obama's Top Style Moments Prove She Changed The FLOTUS Fashion Game
REUTERS
Michelle Obama has done a lot for America throughout her eight years as first lady.
She served as a moving speaker, moral compass and empathizer. She, along with Barack, have been a glowing example of a loving marriage built on teamwork. She's been a mother and motivator for health. She has been the face of our country abroad and promoted the education of girls around the globe.
And, she's also been a style icon.
Like first ladies before her, Obama has swayed fashion trends and inspired millions with jaw-dropping style moments. Obama has been praised for the politics behind her fashion, as much as for the styles themselves.
Arguably, her most memorable style moments have been from state dinners, where she has the amicable tendency to pair a designer with the country she and Barack are dining with on that occasion.
She wore this glittering piece to her final state dinner.
It was with — have you guessed yet? — Italy, home of Versace.
Her first state dinner was with India in 2009.
She wore another glittery gown — this time by Naeem Khan, who was born in India.
Michelle wore a purple Doo.Ri gown to a 2011 state dinner with South Korea.
Designer Doo-Ri Chung is Korean-American.
And then there were the state dinners with China...
Obama brought it twice.
In 2011, she caused a stir by wearing this seriously astounding Alexander McQueen gown.
The gown was "controversial" because it wasn't made by a foreign designer. (She also wears a lot of designers who are immigrants or children of).
Obama again had fashion heads rolling at a state dinner with China in 2015.
Barack couldn't stop staring as Michelle wore Vera Wang (back to Americans).
Though one of Michelle's final formalwear looks was not from a state dinner, it was certainly a stunner.
She wore this Gucci number at the Kennedy Center Honors in December 2016.
Meanwhile, both of her inauguration looks were memorable.
She wore Jason Wu in 2009, which is now on view at the Smithsonian.
She wore Jason Wu again in 2013.
Obama doesn't just make style happen in gorgeous gowns.
She's been credited with saving cardigans, which she employs quite frequently.
She's a big fan of J. Crew cardigans and caused them to sell out in 2009.
J. Crew still advertises the outfit she wore in Vogue.
Michelle is not afraid to get her clothes dirty.
Obama is known to work in her garden at the White House while wearing Converse sneakers.
She knows you've got to have room to move in your outfits.
She really, really likes that yellow. She's worn it in several iterations over the years.
Her daytime looks seem carefree and bright — and always appropriate.
She, along with Sasha and Malia — who have become budding fashionistas themselves — stepped off Air Force One in Milan in 2015 looking all kinds of refreshed for the fashionable city.
She channeled Marilyn Monroe for Independence Day in 2014.
She paired light capris with a sensible blouse on a somber visit with Barack.
They visited a slave port in Senegal during a trip to Africa in 2013, noting their ancestral history as well as that of America.
Michelle has gone through a handful of hair changes over the years as well, including one dip into bang territory.
We've all been there, MObama.
But one of the most beloved — and controversial — aspects of Michelle Obama's looks are her arms.
In 2009, she took her first official portrait as first lady.
And lame people around the country could only focus on the fact that she used her right to bare arms.
Michelle knows what's up. If you've got it, flaunt it.
Obama's looks have always been bold, while staying modestly sensible. She conveys messages with the designers she wears and gives clever nods to political moments.
We will miss Michelle's iconic fashion moments — especially since her designer Sophie Theallet is refusing to dress the Trumps — but at least we know we haven't seen the last of her and her incredible sense of style.
Citations: Here's the First Designer to Say She Won't Dress Melania Trump (The Cut), Obama's Choice to Bare Arms Causes Uproar (ABC News), Mrs. Obama Saves The Cardigan: 'The Obama Effect' In Fashion (NPR), Michelle Obama's inaugural gown goes to Smithsonian -- Jason Wu too (text here) (Los Angeles Times), MICHELLE OBAMA RESPONDS TO MCQUEEN CONTROVERSY (Fashonista)