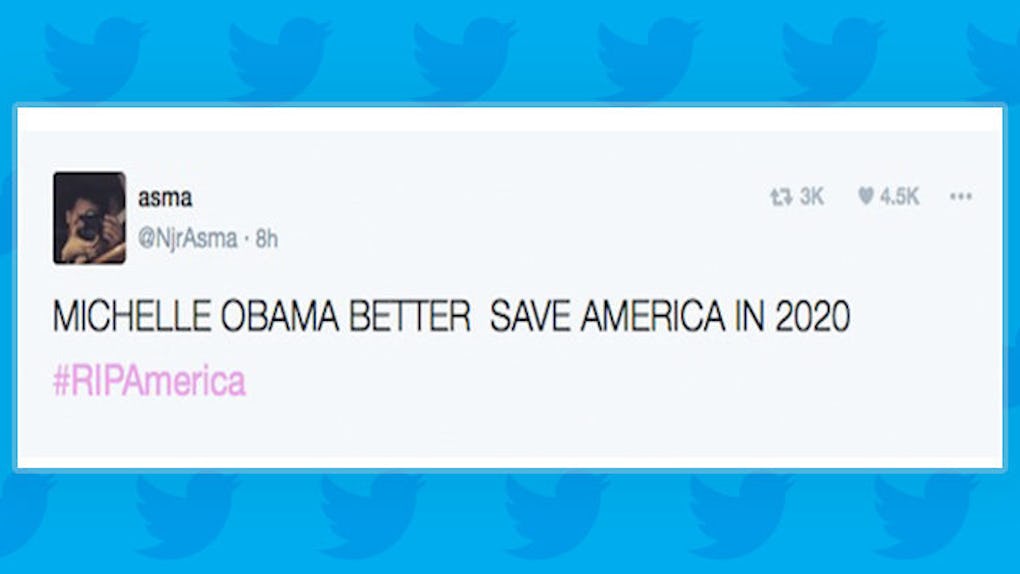 Twitter
'Michelle Obama 2020' Starts Trending Across The Internet
A lot of ladies are pretty bummed out about the fact we won't be seeing a woman taking charge of the country this year, but rather Donald Trump.
I mean, seriously, people. It's 2016. How the in the hell has this great country not had a "madam president," yet?
If you ask me, a lot of people must still have been pretty annoyed at Hillary Clinton for Benghazi or the email scandal (or sexist or misinformed) because she somehow lost to one of the most controversial candidates America has ever seen.
But hey, when life hands you lemons — or in this case, a seriously disappointing (and slightly terrifying) election winner — you don't just give up on America and move to Canada.
Instead, you find something that gives you hope and inspires you to power through the sour state of affairs until an opportunity arises that you make ~lemonade~ from your current situation.
For many people, this hope lies in none other than the first lady herself: Michelle Obama 2020.
That's right. Lots of people are Tweeting their thoughts on where the future of the United States of America is going and saying that Michelle Obama 2020 is basically our only hope.
In fact, a lot of hopeful Democrats think Michelle Obama would actually have a pretty good chance of winning the 2020 election, given the current political atmosphere in America right now.
Don't get me wrong, other names were also thrown around in the discussion of the best options for possible 2020 presidential nominees.
But the lovely first lady seems to be the most popular Twitter-nominated woman by far.
Let's be real. If change is what the citizens of America so desperately seek, why not put a badass girl boss like Michelle Obama in the White House?
Yes, the 2020 presidential election will be very lit, indeed.
Citations: People are shipping Michelle Obama 2020 (Twitter)