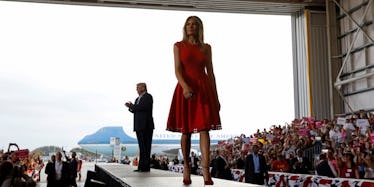 People Are Pissed About Who Melania's Sitting With At Trump's Congress Speech
REUTERS
First Lady Melania Trump will sit next to three individuals who had family members killed by undocumented immigrants during President Trump's joint address before Congress on Tuesday night, and a lot of people are not happy about it.
Melania is sitting with six people in total, including Jessica Davis and Susan Oliver, who are the widows of Detective Michael Davis and Deputy Sheriff Danny Oliver, two California police officers who were killed on duty by an undocumented immigrant in 2014.
She will also be joined by Jamiel Shaw Sr., whose 17-year-old son was shot and killed by a gang member in 2008.
The White House claims the killer was also an undocumented immigrant.
People have a number of issues with this in relation to Trump's stance on immigration and overall silence on recent hate crimes.
Trump continues to conveniently overlook issues with Melania's immigration history.
For one, there's the fact that the first lady reportedly worked illegally for a short period back in 1996, and under a recent executive order issued by President Trump, she would've been a priority for deportation.
So, there's arguably an element of hypocrisy to all of this.
Trump continues to behave as if undocumented immigrants are the most violent group in the US, and that's simply not even close to being true.
There's also the fact that research shows undocumented immigrants are less likely to commit violent crimes than native-born Americans.
With that said, this feels like yet another blatant attempt by the Trump administration to spread xenophobia and garner support for his desire to deport illegal immigrants.
Not to mention, the president has continuously avoided addressing recent hate crimes, including an attack in Kansas in which a white man shot two legal Indian immigrants, one of whom died.
The shooter reportedly shouted, "Get of out my country," and racial slurs before opening fire on the two men.
Trump has been completely silent on the shooting in Kansas, and he's being slammed for it.
This is also part of the reason people are upset about who Melania is sitting with.
The president has also barely addressed the recent rise in anti-Semitism across the country. Jewish cemeteries have been vandalized and Jewish community centers have received bomb threats, among other anti-Semitic hate crimes.
Long story short, while it's awful the people who will be sitting with Melania lost family members, people feel as though Trump is using them as political props to dramatically exaggerate the threat undocumented immigrants pose while ignoring very real problems the US currently faces.
Meanwhile, other politicians plan to bring guests to the speech to help send decidedly different, and arguably more tolerant and unifying, messages.
Some of these guests include undocumented immigrants and refugees.
Trump's speech is set to begin at approximately 9:10 pm EST.
Citations: Melania Trump to sit with relatives of people killed by illegal immigrants during US President address to Congress (The Independent)