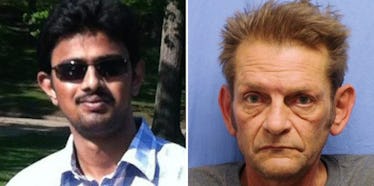 Man Shoots Immigrant Dead After Bar Fight And Yells 'Get Out Of My Country'
GoFundMe / Henry County Sheriff's Office
Srinivas Kuchibhotla, an Indian engineer, was shot and killed by Adam W. Purinton at a bar outside of Kansas City in Kansas on Wednesday night.
The shooting is being investigated as a possible hate crime.
Kuchibhotla was at Austins Bar and Grill in Olathe, Kansas, with his co-worker Alok Madasani on Wednesday evening.
Purinton, 51, was making bigoted slurs to the men, according to witnesses.
Kuchibhotla and Madasani, both 32, worked together at Garmin Ltd., a GPS device company. They are both of Indian descent.
Jaganmohan Reddy, father of Madasani, told the Hindustan Times that Purinton was already at the bar when the young man arrived. Reddy said,
He picked up an argument with them and asked them why they were staying in the US illegally. They tried to tell him that they had done their MS (master's degree) in Kansas in 2006 and had been staying there with valid work permits. When the American continued to shout at them, they complained to the restaurant manager, who sent him out. But he returned soon and started firing at them, resulting in the killing of Kuchibhotla.
Kuchibhotla was killed. Madasani and another man, Ian Grillot, 24, were injured.
Purinton reportedly told them to "get out of my country" before shooting.
Grillot, who is American, attempted to intervene when he heard the slurs. He said in a video that he hid under a table when the shooting started, but got up to pursue Purinton when he thought he was out of bullets.
He didn't want the man to attack anyone else.
Grillot said,
I've had a lot of people call me a hero, this, that and the other. No, it's not like that. I was just doing what anyone should have done for another human being. It's not about where he's from or his ethnicity. We're all humans, so I just felt I did what was naturally right to do.
Reddy, the father of the injured Indian man, who lives in Hyderabad, India, said he had asked his son to leave the United States after the election of Donald Trump. He said,
The situation seems to be pretty bad after Trump took over as the US President. I appeal to all the parents in India not to send their children to the US in the present circumstances.
The news has spread loudly around India. Foreign minister of India, Sushma Swaraj, commented on the shooting on Twitter.
Purinton was arrested at an Applebee's in Clinton, Missouri. The bartender at the Applebee's called the police after the man said he killed two Middle Eastern men, according to the Kansas City Star.
Purinton was held in Missouri. His bond was set at $2 million.
Eric K. Jackson, special agent at the FBI's office in Kansas City, Missouri, told the New York Times about the ongoing investigation,
Our role in this investigation is to work jointly with local law enforcement to determine if an individual's civil rights were violated. It's not uncommon for hate crime investigations to be conducted jointly by the F.B.I. and local law enforcement and prosecuted under the state law.
The president has yet to comment on the shooting.
GoFundMe accounts have been set up for all three men who were shot.
Citations: Hate Crime Is Feared as 2 Indian Engineers Are Shot in Kansas (New York Times), First-degree murder charge filed in possible hate crime shooting at Austins bar in Olathe (Kansas City Star), Hindustan Times