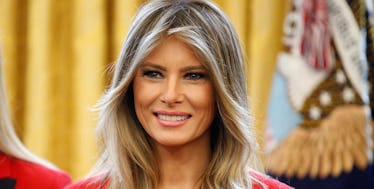 Melania Trump Told Sick Kids 'Gift Of Nature' Can Heal Them And We're Concerned
REUTERS
Melania Trump visited the Children's National, a hospital in Washington DC, on Wednesday in her duties as first lady.
Yes, that's right. Trump was actually in DC and performing the typical duties of first lady.
Trump has otherwise spent her time living in New York City with her son, Barron, and meeting her husband, Donald, in Palm Beach, Florida.
She was in the capital this week in part to be in the audience for the president's first speech to Congress.
The first lady visited the Children's National on Wednesday.
While there, she met with the young patients as well as their families, doctors and staff members. The hospital said in a statement that she talked "about their personal experiences and health care journeys" and also about the healing power of nature.
So, this is where things get a little curious.
It's tradition for political leaders (and their wives) to visit hospitals and spend time with children. But Melania's advice for the children seemed a little strange. According to the statement, she said,
I am a passionate believer in integrating and interpreting nature's elements into our daily lives to create a warm, nurturing and positive environment. I believe that these same natural benefits can be instrumental to enhancing the health and well-being of all children. It is important to me that children can recognize, identify and express their feelings in order to promote their mental wellness and healing process.
Now, it's general knowledge that hanging out in nature doesn't typically cure cancer (and, in fact, can be harmful if there are toxins in the air).
The advice sounds especially tone-deaf when considered in the context of President Trump's healthcare plan.
Trump has said he wants to completely eliminate the Affordable Care Act (aka Obamacare), which would take away insurance from a lot of people in America.
So it seems kind of flippant to hear Melania say, "Oh, just go outside. You'll be fine."
But in the context of the actual event, Trump's words made a lot more sense.
Per the hospital statement, Trump was there touring the Bunny Mellon Healing Garden, which is dedicated to all first ladies. Melania will be officially dedicating the garden this spring.
Trump met with children in the garden and planted seeds with them.
Just goes to show you, context is everything.
Citations: First Lady Visits Children's National (Children's National), Melania Trump calls for the 'gift of nature,' not health insurance, to heal sick children (ThinkProgress)