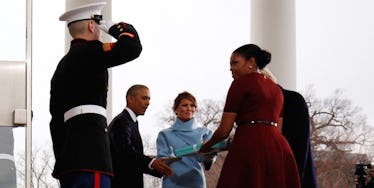 Melania Trump Trying To Avoid Michelle Obama's Hug At White House Is So Awkward
REUTERS
Barack and Michelle Obama greeted Donald and Melania Trump at the White House on Friday morning before the inauguration.
Given their history, we all knew it was going to be an awkward exchange.
I mean, who could forget these super not-staged photos of Michelle and Melania at the White House in November?
And let's not forget how Melania plagiarized Michelle's speech and Donald led a racist "birther" campaign against Barack.
So, yeah, there's some tension there.
But the Obamas have insisted on having a peaceful transition of power, and part of that is greeting the incoming president at the White House before the inauguration.
So the Trumps pulled up. Donald wore a too-long red tie and Melania wore a powder blue Ralph Lauren jacket.
Watch it go down in all its ridiculously awkward glory:
Donald grabbed Michelle by both arms to give her a kiss on both cheeks.
As he shook Melania's hand and gave her a kiss on both cheeks, Barack said,
So nice to see you!
Melania then approached Michelle, holding her hand out forcefully for a shake. But Michelle opened her arms wide and went in for a hug.
Melania was holding a Tiffany's box, which she gave to Michelle.
So Michelle was left sitting there like, "Now I gotta be responsible for this Tiffany's box?"
Meanwhile, the quartet still had to stand and pose for a photo together. So that Tiffany's box was super in the way.
Michelle awkwardly gestured around, trying to figure out what to do with the damn box.
She was going to just hold it for the photo, but then Barack said,
No, no, no, hold on a sec.
He took the box from Michelle and walked inside to put it away.
Barack then came back outside to take the photo. The contrast of Barack's carefully fitted and buttoned suit next to Trump's unbuttoned mess -- not to mention the disparity in hand size -- was unmissable.