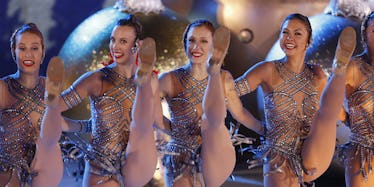 Manager Defends Forcing Rockettes To Dance For Trump: 'I Gotta Sell Tickets'
REUTERS
The Rockettes had a super awkward meeting with their management about the decision to make them dance at Donald Trump's presidential inauguration.
Since the plan was made public, the famed Radio City Music Hall dancers have spoken up to say they do not want to dance for Trump, as they see it as supporting his presidency.
Management said only full-time Rockettes are required to dance at the inauguration. If they don't, they could face losing their jobs. Part-time dancers do not have to dance.
A meeting was held at the end of December with the dancers and James Dolan, the executive chairman of Madison Square Garden.
As reported by Marie Claire, Dolan did not back down on his decision to make the Rockettes dance for Trump, who has been accused of assault by a dozen women.
He said an inauguration is "a great national event," adding,
We are an American brand, and I think it's very appropriate that the Rockettes dance in the inaugural and 4th of July and our country's great historical moments.
Dolan clarified this does not mean the Rockettes completely support Trump, who has accused Broadway of being an unsafe space for a man who supports discrimination against the LGBTQ+ community.
Dolan and the dancers had an uncomfortable exchange about the backlash they are getting from both sides of the political spectrum.
The dancers said they've had people on social media tell them to "shut up and dance."
One woman's voice cracked as she remarked the dancers' faces had been likened to Nazis after it was made public that they would be dancing for Trump.
Dolan shot back how he's been getting emails from anti-Trump people who "spew out this diatribe of hate." In the course of this exchange, one dancer said,
I mean, it just sounds like you're asking us to be tolerant of intolerance.
To this, Dolan responded,
Yeah, in a way, I guess we are doing that. What other choices do we have? What else would you suggest?
I suppose one option would be to NOT force the women to dance.
The dancers are upset the troupe is being forced to make a political statement, especially since so many people have rejected invitations to perform at Trump's inauguration.
Dancers asked Dolan if making this inherently political statement would hurt the brand and make fewer people buy tickets.
Dolan responded,
I don't believe it's going to hurt the brand. And nobody is more concerned about that than the guy sitting in this chair. I'm about to spend $50 million remounting this summer show. I'm going to spend a similar amount remounting next year's Christmas show. I gotta sell tickets.
He went on to say,
A good portion of people voted for this person. Hopefully, they will like our brand. If 1 percent of 1 percent of them come to our show, we're going to do great.
Just to clarify, a good portion of people DID vote for Trump... but not the majority. Hillary Clinton won the popular vote by over 2.8 million votes.
Dolan tried to end the meeting on a positive note.
He said,
I would simply say we're celebrating a new president, not necessarily this president.
That statement was met with 20 seconds of silence, according to Marie Claire.
Dolan concluded,
All right, anybody else? OK. We're so proud of you.
Doesn't sound awkward at all.
Update, 12:15 pm: Barry Watkins, chief communications officer of Madison Square Garden, issued a statement on the Marie Claire article:
This is one person who continues to attempt to represent the entire team of Rockettes. This time it's in a story that is the result of an unauthorized recording that violated the confidentiality of all of her sister Rockettes. While Mr. Dolan stands behind everything he said during the meeting, no one in that room believed they were speaking publicly. Everyone in the meeting had the chance to speak their mind in a safe setting, and many did. Her secret recording was deceitful and cowardly and has betrayed all of her fellow Rockettes. Posting this story is beneath the ethical standards of Hearst. We are deeply disappointed in their decision to post this story.
Citations: Marie Claire, The Daily Beast, CNN