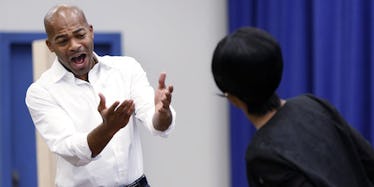 'Hamilton' Star Won't Apologize To Mike Pence: 'Conversation Is Not Harassment'
REUTERS
The cast of "Hamilton" is refusing to bend to Donald Trump's childish demand for an apology.
Vice President-elect Mike Pence was given a talking to at a performance of "Hamilton" over the weekend in New York City.
Pence was booed as he entered the theater. At the end of the show, Brandon Victor Dixon, who plays Aaron Burr, read a statement onstage.
He said,
We, sir, are the diverse America who are alarmed and anxious that your new administration will not protect us, our planet, our children, our parents, or defend us and uphold our inalienable rights, sir. But we truly hope that this show has inspired you to uphold our American values and to work on behalf of all of us.
Trump did not take kindly to this. He tweeted:
Dixon spoke about the issue on CBS News on Monday morning. He said,
Conversation is not harassment.
Dixon noted that guests and celebs are generally invited to visit with the "Hamilton" cast after the show, but Pence did not do that. Dixon said,
If he was unaware [of the open invitation] at the time, I say to him, "Vice President-Elect Mike Pence, please, come, have a conversation with us."
Indeed it's outlandish to consider the "Hamilton" group's actions as "harassment." As you can clearly tell in the video, Dixon spoke respectfully to Pence.
He did not antagonize him or call him names. He simply explained the feelings and identities of the "Hamilton" cast and crew.
Conversation is not harassment.
The "theater" is considered a "safe and special place" by a lot of people, including those who have been marginalized in society. For reference, Pence and Trump should google "Oscar Wilde," "The Vagina Monologues" and "Marian Anderson."
While we have had our eyes trained on Trump's attempt to silence the arts, a few other Trump scandals have been going on.
On Friday, Trump agreed to pay $25 million to settle a fraud case he previously said he would not settle on Trump University, which allegedly cheated people out of thousands of dollars.
It also came to light that Trump registered eight companies in Saudi Arabia while he was campaigning for president. At the same time, he repeatedly condemned Hillary Clinton for letting the Clinton Foundation take donations from Saudi Arabia.
While we're on the topic of the Clinton Foundation, Trump demanded the Clintons cut ties with their foundation for possible conflicts of interest. In the fall, Clinton said that should she win the presidency, she, Bill and Chelsea would step down from the board of the foundation.
Since winning the presidency, Trump has said that his family will continue their roles working at the Trump business while also serving on his presidential transition team, despite the possible conflicts of interest.
"Hamilton" tickets are sold out until September.
Citations: Mashable, New York Times, The Hill, US News, Chicago Tribune