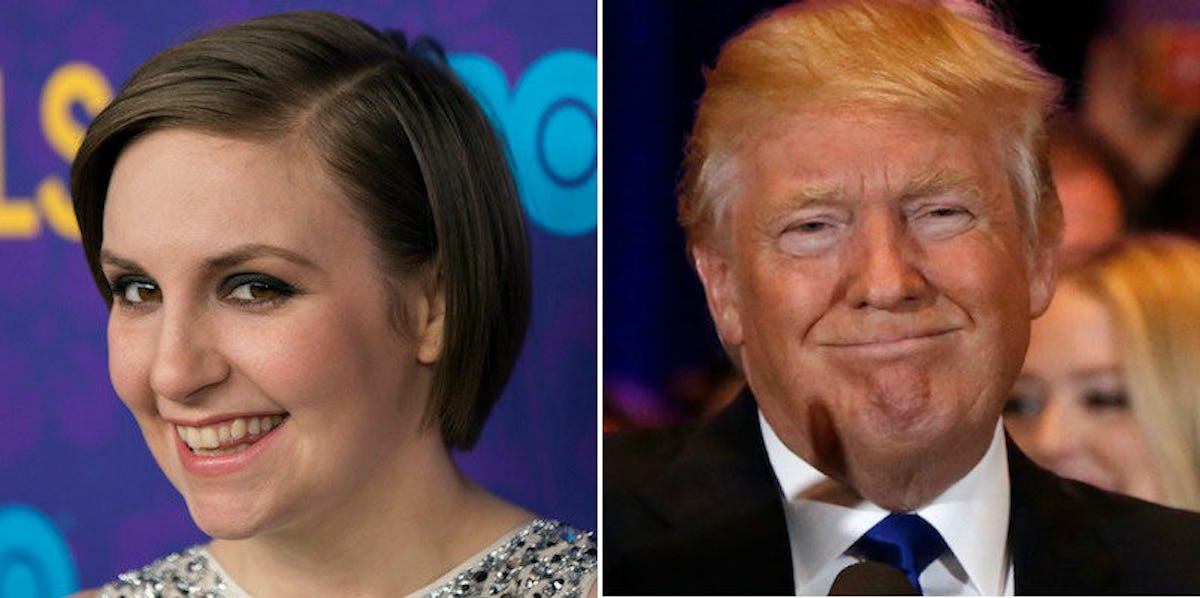 Lena Dunham And Donald Trump Just Threw Some Major Shade At Each Other
REUTERS
Lena Dunham and Donald Trump are feuding.
Dunham, who is a vocal supporter of Hillary Clinton, apparently plans to move if Trump becomes president. On Monday, at the Matrix Awards, she spoke of these plans, reportedly saying,
I know a lot of people have been threatening to do this, but I really will... I know a lovely place in Vancouver and I can get my work done from there.
After hearing about this, the Republican presidential candidate spoke with "Fox & Friends" on the phone, reportedly saying,
Now I have to get elected because I'll be doing a great service to our country... Now, it's much more important. In fact, I'll immediately get off this call and start campaigning right now.
Trump also called the "Girls" star a "B actor" and reportedly said,
She has no mojo.
I'm not really sure what that means or what he's implying, but it obviously wasn't meant to be a compliment.
It's hard not to side with Dunham in this fight, as Canada is looking more and more attractive while Trump remains the Republican front-runner.
After all, this is a man who condones violence, makes frequent bigoted and misogynistic remarks and wants to deport over 11 million people, ban Muslims from entering the country, deliberately kill the families of terrorists and bring back torture, among other abhorrent policy proposals.
Not to mention, he's already done damage to America's global reputation.
On that note, we also know of a remote Irish island that has plenty of space and is willing to welcome Americans in the event of a Trump presidency. So, if Canada isn't appealing to you, at least we all have options.
Citations: Lena Dunham, Nancy Dubuc, Janice Min Honored at Matrix Awards (Hollywood Reporter)