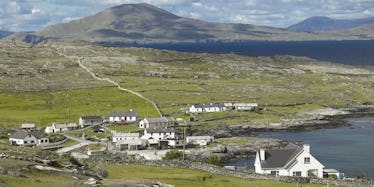 There's A Remote Irish Island We Can All Move To If Trump Becomes President
Getty Images
Around 35 million Americans claim to be of Irish descent. If Donald Trump becomes president, a portion of these individuals will have a chance to return to the old country.
Indeed, if you're shaking in your boots at the prospect of Trump running the country (aka destroying it), fear not because Ireland has your back.
Inishturk, a largely abandoned island located off the coast of County Mayo, seeks to compel anti-Trump Americans to resettle there, IrishCentral reports.
At the moment, the island has a bustling population of 58, and the people there would like to see it grow.
Mary Heanue, the Inishturk development officer, said,
Our big concern is employment and trying to encourage families to move over here because the population is declining. The island featured on an Irish TV documentary last year which gave us great publicity and a good few extra bookings. But we ended up having a terrible summer and a lot of people canceled. I've heard there are quite a few people in America looking to move to Ireland and other countries if Donald Trump becomes president. I'd like them to know that we'd love to see them consider moving over here. They'd be given a huge welcome and they'd find this is a fantastic place to live and to bring up children. Their kids would probably get the best education anywhere in the country too, because the teacher to pupil ratio is nearly one-on-one. Although winters can be hard and it's the kind of life that wouldn't necessarily suit everyone, they'd find it very peaceful here and they'd soon find out there's nowhere as nice in the world on a summer's day than here.
If you believe you're capable of lasting through the harsh winter on the island, you might want to consider moving there if you don't think you can stomach living in America with a small-handed narcissistic bigot as president.
Inishturk seems like a good place for anyone who's fond of nature, tranquility and nice views. There are certainly worse places you could end up (like America with Trump as president).
Canada is also a viable option, as Cape Breton Island is welcoming American citizens in the event of a Trump presidency.
If Trump doesn't win, I hope people will, at least, consider visiting Inishturk because it sounds like the nice people there are starting to get lonely.
Citations: Remote Irish island seeks Americans fleeing Donald Trump presidency (IrishCentral), The Irish-American population is seven times larger than Ireland (The Washington Post)