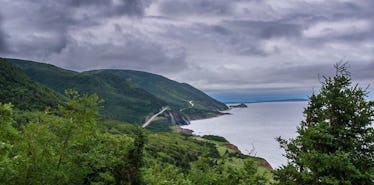 This Canadian Island Is Welcoming US Citizens If Trump Becomes President
Getty Images
A Canadian island is inviting Americans to move there if Donald Trump becomes president.
Cape Breton Island is roughly 500 miles east of Canada's border with Maine and approximately the same size as the biggest island of Hawaii.
According to Complex, the island, through its new campaign, Cape Breton If Donald Trump Wins, welcomes an unlimited number of Americans as new residents should they fear for their well-beings under President Trump.
The campaign's official website says,
Don't wait until Donald Trump is elected president to find somewhere else to live! Start now, that way, on election day, you just hop on a bus to start your new life in Cape Breton, where women can get abortions, Muslim people can roam freely and the only 'walls' are holding up the roofs of our extremely affordable houses.
The homepage also says Cape Breton winters are no colder than those in the American Northeast, while temperatures in the summer peak around the 80s.
Other perks include free healthcare, unarmed neighbors and what the website calls "the most affordable housing market in North America."
There's also reportedly a college on the island hailed as "North America's first carbon-neutral university campus."
Americans of all ethnicities are welcome because the island values diversity and is home to speakers of French, Gaelic and even the Aboriginal Canadian language of Mi'kmaq.
The website's FAQ section assures viewers the campaign is not a joke and explains its purpose. It says,
Our population is shrinking. A slow economy, in combination with out-migration has us on an unsustainable path. The truth is we welcome all, no matter the ideology. We have a beautiful island, a friendly people, a rich culture and a bright future.
The shrinking population and economic woes have apparently resulted in a high unemployment rate, but the island seems to have maintained its festive atmosphere nonetheless.
Canada as a whole may very well be expecting an influx of Americans should Trump become victorious, possibly thanks to the wonderful example the Great White North set late last year when it opened its doors to Syrian refugees.
If Trump loses to the arguably most progressive Democratic candidate, however, the US might just be on its way to becoming a lot more like Canada.
Citations: Canadian Island Invites Americans to Move There if Trump Wins Presidency (Complex), Welcome (Cape Breton If Donald Trump Wins)