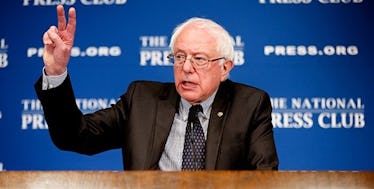 Bernie Sanders Is Saying What Millennials Have Been Thinking All Along
When Senator Bernie Sanders announced he's running for president, many were quick to dismiss him. After all, he's a 73-year-old, self-proclaimed "democratic socialist" from Vermont. Not to mention, he's up against Hillary Clinton, whose notoriety and wealth place her at a significant advantage.
But Sanders has not allowed any of these factors to deter him and shockingly raised $1.5 million within 24 hours of announcing his candidacy. He's still behind Clinton in the polls, but not by as wide a margin as predicted.
He's more of a threat to Clinton than many initially believed, and it's arguably because he's bold enough to say what he's thinking, regardless of how radical it may sound. Sanders has also made himself extremely accessible to both the media and public, while Clinton has frequently been accused of avoiding reporters.
While almost everything Clinton does feels political and calculated, Sanders comes off as a genuine and candid individual. Even if you don't agree with what he's saying, there's no doubt about his convictions.
He may look a bit like Christopher Lloyd in "Back to the Future," and President Obama may have jocularly referred to him as a "pot-smoking socialist," but Sanders is no joke -- he's the real deal.
Sanders still faces substantial obstacles, but it's fair to say his campaign has been surprisingly successful thus far and he's gaining momentum.
If Sanders were to gain the support of Millennials, he'd have an even bigger advantage. When one takes a look at data surrounding this generation and compares it to Sanders' actions and statements, this is a conceivable possibility.
Millennials, or Generation-Y, are one of the most sought after demographics given they constitute the largest generation in US history and a significant voting bloc.
A recent survey from Harvard Institute of Politics revealed a clear majority (55 percent) of Millennials favor keeping a Democrat in the White House. This isn't very surprising considering Millennials voted majority Democratic in the past two presidential elections, as well as in the more recent midterms.
The poll also revealed Millennials favor Hillary Clinton over other Democratic presidential candidates. It will be interesting to see if this changes over the course of the coming weeks and months, particularly in regards to Sanders.
According to Pew Research Center, Generation-Y is extremely liberal, especially on social issues. A democratic socialist like Sanders might appeal to young folks for this reason. One-third of Millennials also have a favorable view of socialism, which might work in his favor.
When it comes down to it, Sanders' views seem to coincide with the positions of Millennials on a variety of issues. He's a populist who's completely fed up with the status quo and isn't afraid to express himself.
In many ways, he's been saying what this generation has been thinking all along.
1. College should be free.
The cost of a higher education in the United States is astounding. Consequently, 40 million Americans currently face $1.2 trillion in student loan debt.
This issue has hit Millennials especially hard. The class of 2015, for example, graduates with the highest rate of student loan debt in history -- students who took out loans owe an average of $35,000 each.
Bernie Sanders is fed up with this, contending:
It is insane and counterproductive to the best interests of our country that hundreds of thousands of bright young people cannot afford to go to college and that millions of others leave school with a mountain of debt that burdens them for decades... I will fight to make tuition in public colleges and universities free, as well as substantially lower interest rates on student loans.
Sanders recently introduced the College for All Act, which is designed to make college completely free.
Given the impact student loans and the cost of education have had on Generation-Y, there's no doubt many agree with Sanders on this issue.
At present, 76 percent of young people say college has become more difficult to afford, while 73 percent say they have more student debt than they can handle.
2. Inequality is immoral and bad for the economy.
Bernie Sanders' campaign is defined by a desire to combat wealth and income inequality. During his announcement speech, he stated:
The issue of wealth and income inequality is the great moral issue of our time, it is the great economic issue of our time and it is the great political issue of our time. And we will address it. Let me be very clear. There is something profoundly wrong when the top one-tenth of 1 percent owns almost as much wealth as the bottom 90 percent, and when 99 percent of all new income goes to the top 1 percent.
According to Pew Research Center, wealth inequality reached historic proportions in the US by the end of 2014. Concurrently, a 2014 Harvard Public Opinion Project poll revealed a majority of Millennials believe the gap between the rich and poor has grown during their lifetimes and is a significant problem.
Thus, in the fight against economic inequality, Sanders might find many allies among Millennials.
3. Young people need jobs, and they need them now.
It's no secret one of the biggest issues facing Millennials is unemployment. In May, for example, 13.6 percent of this generation was unemployed.
Overall, Millennials make up around 40 percent of unemployed individuals in America.
Bernie Sanders finds this unacceptable, stating:
It is beyond comprehension that we, as a nation, have not focused attention on the fact that millions of young people are unable to find work and begin their careers in a productive economy. We cannot turn our backs on this national tragedy.
Sanders recently asked Congress to spend $5.5 billion on one million jobs for young people.
In his view, it's ridiculous the US spends billions per year on mass incarceration, yet young Americans are struggling to find jobs. Simply put, Sanders believes it's far more pragmatic to invest in jobs than imprisonment.
It's safe to say most Millennials would agree.
4. Climate change is real, and it's our fault.
Bernie Sanders has made his position on climate change abundantly clear:
The debate is over. The scientific community has spoken in a virtually unanimous voice. Climate change is real. It is caused by human activity and it is already causing devastating problems in the United States and around the world.
In Sanders' opinion, it's irresponsible to allow skepticism on this issue to persist.
Correspondingly, 75 percent of Millennials believe climate change is real, with a majority (55 percent) also agreeing with Sanders it's man-made.
Earlier this year, during his State of the Union address, President Obama argued,
No challenge poses a greater threat to future generations than climate change.
It's evident both Sanders and Millennials feel the same way. Sanders has continuously urged for stronger measures to reduce carbon emissions, while pushing others to acknowledge the detrimental impact humans have had on the environment.
As Mother Jones notes, Sanders has one of the best records on climate change in the Senate, and is arguably the most progressive presidential candidate on this issue.
Sanders has called for a tax on carbon, while also advocating for investments in more sustainable forms of energy. A majority of Millennials would likely appreciate this approach, given 71 percent have stated they believe it's important we actively seek out alternative forms of energy.
5. Same-sex marriage should already be legal.
Sanders is a fervent supporter of LGBT rights and has been throughout his career in politics, recently arguing:
Of course all citizens deserve equal rights. It's time for the Supreme Court to catch up to the American people and legalize gay marriage.
The vast majority of Millennials would definitely agree with this statement.
According to Pew Research Center, around 73 percent of Generation-Y supports same-sex marriage, more than any other generation in America.
Bernie Sanders might be an underdog in this race, but it's clear he's not going down without a fight. His appealing message and contagious passion should not be underestimated.
If more Millennials realize how closely their views align with his progressive stances, it could tip the scales in his favor. It's a long-shot, but not impossible.
Citations: Bernie Sanders raises 1 point 5 million dollars in 24 hours says his campaign (Washington Post), Hillary Clinton Acutely Aware of Pitfalls Avoids Press on Campaign Trail (New York Times ), Obama Jokes That There Could Be Another Pot Smoking Socialist In The White House (Huffington Post), Bernies Announcement (Bernie Sanders), Who will grab the millennial vote (CNN), Millennials Favor Hillary In Harvard Poll (Bloomberg Politics), Harvard Youth Poll (Harvard Institute Of Politics ), Wisconsin straw poll surprise A narrow Clinton win (Politico ), Millennials in Adulthood (Pew Research ), Failure to attract millennials is sinking the GOP (CNN), Economists And Millennials Disagree On Income Inequality (Harvard Political Review ), STATEMENT BY SEN BERNARD SANDERS ON THE EMPLOY YOUNG AMERICANS ACT (Senator Bernie Sanders), Bernie Sanders asks Congress to spend 5 billion on 1 million jobs for youths (Washington Post), 4 Ways Millennials Have It Worse Than Their Parents (Time ), YOUTH UNEMPLOYMENT AT 13 Percent IN MAY (Generation Opportunity ), Millennial College Graduates Young Educated Jobless (Newsweek), Wealth inequality has widened along racial ethnic lines since end of Great Recession (Pew Research Center ), One third of millennials view socialism favorably (YouGov), Sanders on Gay Marriage (Bernie Sanders ), Changing Attitudes on Gay Marriage (Pew Research Center ), Bernie Sanders on the Issues (New York Times ), Is Bernie Sanders the Best Candidate on Climate Change (Mother Jones ), Youth Unemployment A National Tragedy (Bernie Sanders ), Domestic and Foreign Policy Views (Pew Research Center )