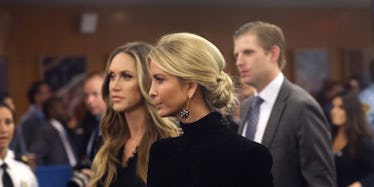 Ivanka Trump's Meetings At The UN Proves She Learned Nothing From Her G20 Fiasco
John Moore/Getty Images
While her father, President Donald Trump, bloviates and threatens North Korea in front of an assembly of world leaders, Ivanka Trump is taking on her own role at the United Nations. Ivanka Trump is meeting with heads of state at the UN all week to advocate her agenda of empowering women and girls. But it's a little weird, considering what happened the last time she put herself forward on the public stage at this summer's G20 meeting in Germany. (Reminder: It didn't go over well.)
World leaders are reportedly "lining up" to meet with the first daughter, according to CNN. On Sept. 18, the first day of this week's UN General Assembly in New York, Trump met with Indian Foreign Minister Sushma Swaraj to discuss women's entrepreneurship and workforce development in India. Trump posted about it on Instagram the same night, writing, "I have long respected India's accomplished and charismatic Foreign Minister Sushma Swaraj, and it was an honor to meet her today," and adding that the two had a "great discussion."
Swaraj isn't Trump's only meeting. She's also planning to meet with other world leaders, like Australian Foreign Minister Julie Bishop, and have coffee with Queen Maxima of the Netherlands, according to ABC News. And Trump herself referenced working with UK Prime Minister Theresa May in an Instagram caption on Monday. On a video of President Trump's speech at the United Nations on the morning of Sept. 19, she wrote,
I look forward to furthering the goals of the Global Fund to End Modern Slavery at the UN this afternoon with UK Prime Minister May and continuing to champion the World Bank Group's Women Entrepreneurs Finance Initiative in the months and years to come!
On the same day, Trump delivered a speech on the subject of human trafficking at a panel event hosted by Great Britain and Northern Ireland. Trump said that her father, President Trump, was prepared to "bring the full force and weight of [the U.S.] government" out against human trafficking. She said,
It is hard to grasp how tens of millions of people across the globe can experience this scale of human suffering. It is unacceptable. Human trafficking, forced labor and modern slavery splinters families, distorts global markets, undermines the rule of law, strengthens transnational organized criminal networks and threatens national security everywhere.
Trump was reportedly invited to speak at the panel as a guest of May, who invited her after the G20 summit back in July, according to CNN.
But while the stance is solid — I mean really, no one can say that human trafficking is a good thing — the spokesperson is iffy. Ivanka Trump already takes plenty of criticism for her position in her father's administration, as some wonder what right she has to be in the administration at all, particularly as a player on the world stage.
If you recall, back in early July, Trump took over her father's seat at the G20 conference in Germany when he was called away to another meeting. And hoo boy, was everyone upset. The problem, of course, wasn't the fact that she sat in his seat — but rather, that by taking the seat she put herself forward as a representative of the United States. Which, given the fact that she has no political experience and hadn't been elected to any governmental role, a lot of people found presumptuous.
Particularly considering that she had only shortly beforehand said that she tried to "stay out of politics," social media had some eyebrows to raise.
And the meetings and speeches at the United Nations this week are shades of the same, as some people wonder why the heck Ivanka Trump is speaking at the United Nations at all. Seriously, before her father was elected president, she was best known for hocking handbags and heels to professional women.
Also notable — the fact she spoke regarding modern slavery, after her factories making the previously mentioned handbags and heels were accused of exploiting and abusing workers.
Look, issues like human trafficking are huge and important and affect the lives of real people.
They are worth speaking out on, expertise in politics or lack thereof notwithstanding. You don't exactly have to be a political savant to know that exploiting people is a Bad Thing. So, kudos to Trump for standing up for that issue, sincerely.
But considering everything else Ivanka Trump is known for at this point, maybe — just maybe — a public speech alongside elected heads of state at a multinational diplomacy event is not the best way to get the message, rather than the messenger, listened to.
So, for the next event in which Ivanka Trump is invited to feature on the international stage — well, maybe she should reconsider.