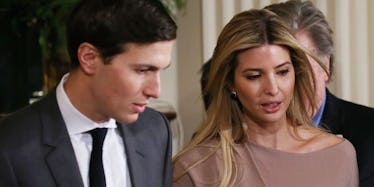 Ivanka Trump And Jared Kushner Skipped Trump's Paris Agreement Announcement
Mario Tama/Getty Images
When Donald Trump announced that the U.S. would be withdrawing from the Paris climate accord on Thursday, many were wondering about the whereabouts of his daughter, Ivanka.
Ivanka, along with her husband Jared Kushner, was reportedly very against her father withdrawing from the accord. She was putting "intense" pressure on Donald to stay in the agreement, Axios reporter Jonathan Swan said.
Climate change has apparently been an important issue to Ivanka and Jared. They reportedly pushed the president to keep language about climate change policies out of an executive order back in February.
And in December, Ivanka met with Al Gore, who said that she is "very committed to having a climate policy that makes sense for our country." Gore said on Thursday that Trump's Paris accord decision is "a reckless and indefensible action."
It was this reported care for climate change that made Ivanka and Jared's absence on Thursday so noted.
The couple has been a highly visible presence in the Trump administration, traveling with him and meeting with foreign dignitaries. These actions have garnered criticism from some who believe them to be a sign of nepotism and potential conflicts of interest.
Regardless, they've been present at a lot of events, so their absence in the White House Rose Garden on Thursday during the president's announcement was apparent.
Ivanka and Jared reportedly missed the Paris Agreement announcement because of religious reasons and scheduling conflicts.
Ivanka was home for Shavuot, a Jewish festival, according to Wall Street Journal reporter Rebecca Ballhaus. Jared, meanwhile, ha d"longstanding meeting with someone from out of town," Ballhaus tweeted according to the White House.
This was corroborated by several other White House reporters.
The couple and their family was seen observing Shavuot on Wednesday and earlier in the day on Thursday.
Trump and Kushner have not yet made an official comment about the president's decision.