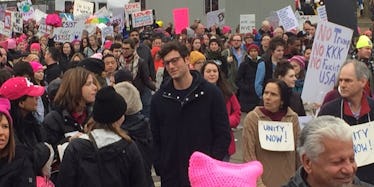 Ivanka Trump's Brother-In-Law Seen At Women's March, Says He Was 'Observing'
Twitter
By now, you've likely heard about the massive Women's March that shut down streets in D.C. and other cities around the country following the inauguration of President Donald Trump.
Plenty of human rights demonstrators hit the streets to peacefully protest for women's rights while voicing their stance against Trump. Even celebrities like Rihanna showed up to stand in solidarity with protesters.
Believe it or not, some people just showed up to see what all of the noise was about -- like Joshua Kushner, Ivanka Trump's brother-in-law.
The 31-year-old brother of Jared Kushner was seen standing in the middle of the Women's March by another marcher.
According to a tweet posted by Washingtonian editor Jessica Sidman regarding Kushner's unexpected sighting, the Oscar Health founder said he was simply "observing" the march in D.C.
His response came after a woman allegedly yelled,
Hey, Jared Kushner's brother is here!
Here's the tweet.
It should also be noted Joshua Kushner's model girlfriend Karlie Kloss originally expressed her support for Hillary Clinton during the presidential election after posting this photo:
So, was he "observing" or was he actually marching? We'll never know... or will we?
In an article published in August 2016 for Esquire, a spokesperson for Joshua Kushner said that the lifelong democrat would not be voting for his brother's father-in-law.
While his response to being sighted at the Women's March is quite confusing, it wouldn't be too surprising to learn he was actually standing with protesters rather than just "observing" their resistance.
A report regarding Kushner at the march in the Washingtonian states the 31-year-old is "known for keeping a low public profile." Imagine how low-pro he'd be if he didn't date Karlie Kloss!
Speaking of Karlie, the 24-year-old model had been in New York City on January 21 when the march took place. So, maybe Joshua Kushner really was just "observing" the scene.
Citations: Ivanka Trump's Brother-in-Law Joshua Kushner Spotted at Women's March (Us Weekly)