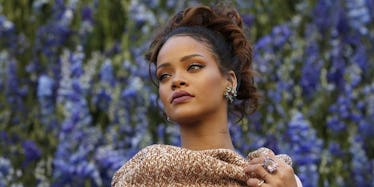 Rihanna Dabbed During The Women's March And Basically Won At Protesting
REUTERS
If you were one of the many people crowding the already chaotic streets of New York City on Saturday evening for the anti-Trump protests and Women's March, there's a good chance you saw Rihanna.
Then again, so many people took to the city streets it may have been impossible to spot her with your own eyes, but she was there, and there's an epic dab video to prove it.
The 28-year-old singer joined a crowd of protesters outside of Trump Tower in Manhattan to show her support for women's rights and the mass resistance against President Donald Trump.
According to Mashable, a fellow New Yorker named Laura von Holt spotted RiRi standing in solidarity with protesters outside of Trump's Fifth Avenue tower as she danced and joined in with crowd chants.
She danced along to the crowd's chants and chanted along to 'My body, my choice' and 'Black Lives Matter. She was laughing and chatting with the other protesters, commenting on signs and T-shirt slogans. She seemed very happy to be a part of it. As she left, she waved to all of us and many of us thanked her for coming.
Don't worry, I'm sure you're not the only person upset because you missed Rihanna putting in work.
Rihanna hit the streets of NYC on Saturday evening to show her support for women's rights by joining in on the city's mass protests.
Writer and fellow New Yorker Laura von Holt also spotted Rihanna in a crowd of anti-Trump protestors outside of Trump Tower.
RiRi joined in on the echoing chants, reciting phrases like, "Hey, hey, ho, ho, Donald Trump has got to go."
Not to mention, her outfit was on point. Yes, her hoodie actually says "this pussy grabs back" and it's perfect.
Other chants RiRi joined in with included, "My body, my choice."
But perhaps one of the best moments of Rihanna's surprise appearance at the mass protests was when she unexpectedly hit "the Dab."
The next morning, the 27-year-old star continued to show her support for the movement with a shirt reading, "We should all be feminists."
She makes it look so easy!
Rihanna and the protesters standing before Trump Tower weren't the only people using their voices for a good cause this weekend.
On Saturday, millions of people took to the streets in cities around the world to protest against President Trump and support women's rights simultaneously.
It has been estimated a whopping 500,000 protestors flooded the streets of Washington DC alone.
Just think, that number isn't even counting the people spread throughout 160 other cities around the world that were also said to have engaged in the protests.
Unfortunately, Rihanna is only one woman and couldn't be in 160 cities at the same time.
Citations: Rihanna just dabbed at the Trump Tower protest. Where were you? (Mashable)