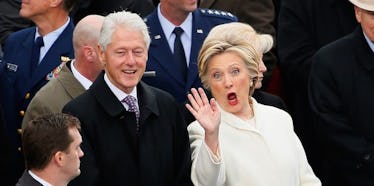 Hillary Clinton Tweets About That Sex Conspiracy While Trolling Trump Adviser
REUTERS
Hillary Clinton is not holding back now that she's living it up as a private citizen.
The former secretary of state shared a trollific tweet in response to the news that Donald Trump's national security adviser Michael Flynn resigned after just 24 days.
Flynn resigned thanks to reports that he had contact with Russia and lied to the administration about it.
Flynn really did not like Clinton, to put it lightly.
Over the course of the presidential campaign, he encouraged chants of "lock her up," and said she believed herself to be above the law.
Meanwhile, he also appeared to have supported the completely unfounded Pizzagate conspiracy theory.
Flynn tweeted (and deleted) links to dubious sites about the theory. That theory was that Clinton was involved in a child sex ring run in DC pizza shop Comet Ping Pong. It is as ridiculously unsupported by facts and evidence as it sounds.
But the conspiracy was so widely spread it led a man to fire a gun in the pizzeria to investigate it himself.
Flynn's son, also named Michael, had tweeted about Pizzagate on his own Twitter account as well. The Trump transition team kicked him out over it.
So yeah, Clinton may have been feeling a little gleeful seeing Flynn's fall from power.
And she sent out a tweet as the news broke on Monday night.
She quote tweeted Philippe Reines, who worked with her at the State Department.
In her tweet, Clinton wrote that "fakes news" has "real consequences."
Reines's quote was particularly trolly.
In his tweet, he wrote in reference to Pizzagate,
What goes around COMETS around.
Reines added a link to the job application page for Domino's Pizza.
Clinton has had a true hell of a year.
She waited eight years to run for president again. She was widely considered to be one of the most qualified candidates ever.
But she was bogged down by relentless attacks from Republicans, fabricated conspiracy theories, sexism and Russian actors working to influence America's politics.
And Flynn was an active part of all of that.
So of course she's going to be a little petty seeing Flynn brought down. Carry on, Hillary.
Citations: Michael Flynn quietly deletes fake news tweet about Hillary Clinton's involvement in sex crimes (CNN), Mashable