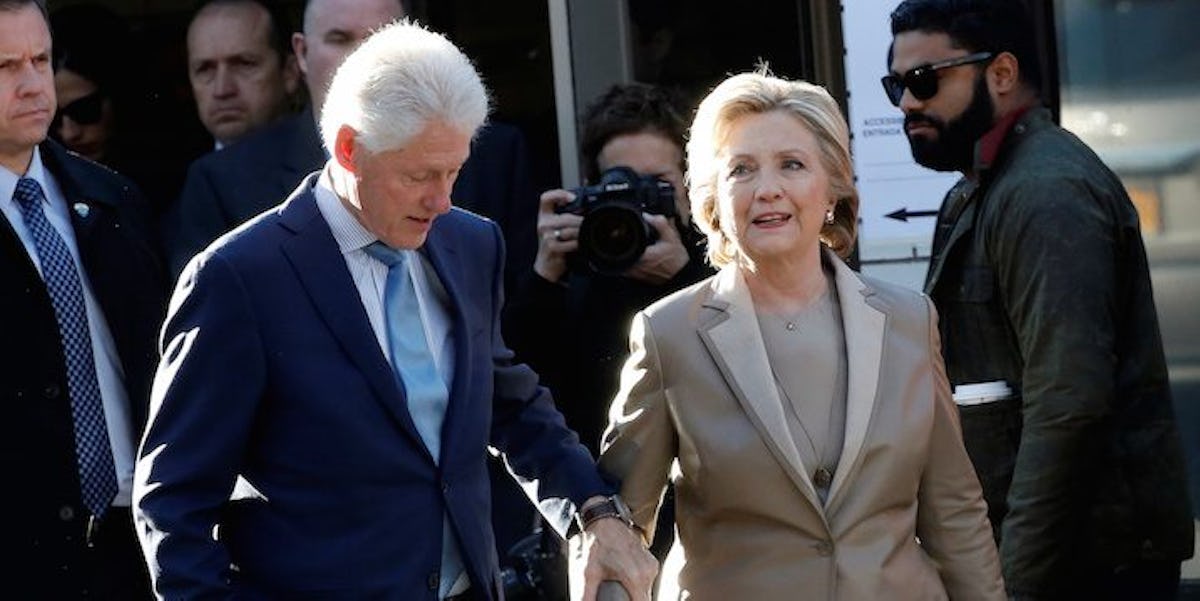 Bill Clinton Caught Shamelessly Checking Out Hillary's Butt In Date Night Video
REUTERS
Bill and Hillary Clinton were spotted out on another date night in New York City on February 1.
They were welcomed by a cheering crowd, but Bill seemed much more interested in his wife... and her assets.
Check out the video for yourself:
As one commenter said,
Eyes up here, Bill!
All kidding aside, the former president and first lady were in town to see "In Transit," an a cappella musical at the Circle in the Square Theatre.
When they got to their seats, someone shouted,
We love you, Hillary!
And the crowd burst into applause.
This stands in stark contrast to how Donald Trump's vice president Mike Pence was greeted on Broadway last fall.
It's no big secret that Trump is not particularly well liked in — and, some might say, is in fact "despised" by — his hometown.
"In Transit" is actually all about New York, so it must have been extra poignant for the former senator of New York and her husband.
The Clintons got to meet the cast after the show, as well.
Clinton spoke to supporters at the musical, as seen in the first Instagram video up in this post. She said,
We can't stop standing up for what we believe in and what we care about. It's just too important.
Clinton, along with daughter Chelsea and former president Barack Obama, has been voicing her support for the demonstrations against Trump's policies and general discrimination, including the Women's March.
This is not the first appearance on Broadway that the Clintons have made for date night.
After making it out of the woods, the Clintons have been spotted at several shows, including "The Color Purple," where they were also warmly greeted.
As an opera fan, I do urge the couple to go beyond Broadway and perhaps check out "Carmen," "Rigoletto," "La Traviata" or "Eugene Onegin" at the Metropolitan Opera, which all tell stories of the tragic results of fragile, controlling masculinity in the face of female autonomy and sexuality.
They could also check out "Don Giovanni" this season, an opera about a powerfully-born rapist ultimately dragged to Hell that has been compared to the life of Donald Trump.
Regardless, the Clintons want to see some musicals and are clearly finding some fun ways to fill their time outside of the White House.
Well, that is, until Hillary runs for mayor of New York.
Citations: Hillary And Bill Clinton's Date Night Is Making Our Hearts Swoon (Huffington Post), HAS ANY PRESIDENT EVER BEEN AS DESPISED IN HIS HOMETOWN AS DONALD TRUMP? (Newsweek), Hillary Clinton made a rare appearance at 'The Color Purple' — and got three standing ovations (Washington Post), Poll: Clinton would lead de Blasio in NYC mayor's race (POLITICO), What Don Giovanni, an Opera About a Charismatic Rapist, Can Teach Us About Don Trump (Slate)