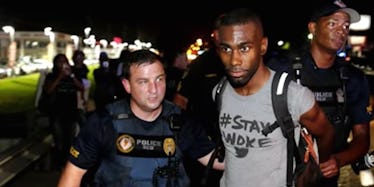 Young People And BLM Activists Are Changing Their Minds About Hillary
YouTube
It looks like Hillary Clinton is finally winning over more young voters, as well as prominent Black Lives Matter activists, with less than two weeks until the election.
This is a big deal.
Throughout this election cycle, Clinton has struggled to gain the support of Millennial voters and particularly young black voters.
Correspondingly, she's had members of the Black Lives Matter movement protest her events.
There's a lingering distrust of the Clintons among some black voters over how they approached criminal justice while Bill Clinton was president.
As first lady, Hillary Clinton supported a 1994 crime bill that catalyzed mass incarceration, which has disproportionately impacted people of color. She also controversially referred to young black Americans as "super-predators."
In spite of expressing great regret over all this, the Democratic presidential nominee has not been able to escape the legacies of these statements and decisions during the election cycle, and has frequently been challenged over her past actions.
Meanwhile, it's not exactly a secret young voters favored Senator Bernie Sanders during the primary season. The Vermont senator absolutely dominated among Millennials.
When Clinton ultimately gained the Democratic nomination for president, there were doubts as to whether she'd be able to convince more young people to support her.
It now appears as though these problems have largely dissipated, and somewhat simultaneously.
I am voting for Hillary Clinton...I agree with Clinton more than I disagree with her.
In other words, it seems young people and prominent members of the Black Lives Matter movement have finally changed their minds about Clinton.
Either that, or they're so disgusted by the idea of Trump becoming president they see her as the best option.
DeRay McKesson, one of the leading voices of the Black Lives Matter movement, just endorsed the former secretary of state.
In an op-ed for the Washington Post, he said,
I am voting for Hillary Clinton. Make no mistake, I do not agree with Clinton on everything. For that matter, there are few people in the world with whom I agree on everything... But I agree with Clinton more than I disagree with her.
Mckesson made it clear he appreciates Clinton has been very vocal about her support for Black Lives Matter, criminal justice reform and her efforts to highlight systemic racism.
Shaun King, a civil rights activist who has also been a very vocal supporter of Black Lives Matter, endorsed Clinton over the summer.
Previously, King was a strong supporter of Sanders, so his endorsement of Clinton was in many ways about being against Trump.
King took to social media on Wednesday to reiterate the nature of his support for her, highlighting that he's still "skeptical" of Clinton but believes she's the best choice in the election.
Brittany Packnett, another prominent Black Lives Matter activist, also recently endorsed Clinton.
Just two months ago, Packnett was in the featured image of a New York Times article about Clinton's struggle to court young black voters, in which she stated,
We're in the midst of a movement with a real sense of urgency. Mrs. Clinton is not yet connecting because the conversation that younger black voters are having is no longer one about settling on a candidate who is better than the alternative.
But last week, Packnett changed her tune (somewhat) and offered her endorsement to Clinton.
The best way I can use my platform is to support Secretary Clinton.
None of these individuals speaks for the entire Black Lives Matter movement, but their endorsement of Clinton does speak volumes about this election – and Trump's massive lack of support among black voters.
It's not all that surprising Trump has virtually no support among black voters, given he's tweeted controversial (and false) statistics about black people and argued we have to "give power back to the police."
It's also not that surprising he's not doing very well with young voters – a very diverse demographic who tend to lean left on most issues.
But many did seem to be confused as to why Clinton couldn't win over Millennials, given her close ties to the Obama administration and the president's popularity with young people.
One might say the skepticism surrounding Clinton among young voters primarily comes down to ideological differences.
At this point, however, it appears the former secretary of state has overcome much of this.
Clinton now has a larger margin of support from Millennials over Trump than President Obama did over Mitt Romney in 2012. This is pretty significant.
According to a new national poll of America's 18 to 29-year-olds by Harvard's Institute of Politics (IOP), Clinton leads Trump by 28 percent.
Comparatively, in 2012, Obama had a 19 percent lead over Romney with young voters in the same Harvard IOP poll just two weeks before the election.
The Democratic presidential nominee earned 49 percent of likely young voters' support while Trump captured just 21 percent in a four-way race. Gary Johnson captured 14 percent and Jill Stein garnered five percent, with 11 percent remaining undecided.
Millennials helped catapult Obama to the White House twice, and it looks like they will play a major role in this election as well, which is just 13 days away.
What we seem to be seeing is more young people realizing no presidential candidate is perfect, and it's difficult to find any politician who sees eye-to-eye with you on every issue.
In the end, achieving any level of progress is often about how much you're willing to compromise.