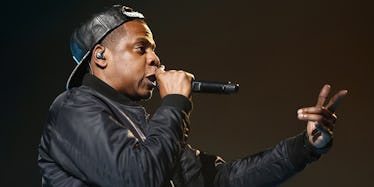 Jay Z Likes Nasty Women And Is About To Throw A Pro-Hillary Concert In Ohio
REUTERS
Jay Z is married to a "nasty woman," and he's about to show his support for another in a major way.
The rapper is set to hold a concert in Cleveland, Ohio prior to Election Day (date to be determined) in an effort to mobilize young Americans to vote for Democratic presidential nominee Hillary Clinton, BuzzFeed reports.
In particular, the event is meant to encourage young black voters to throw their support behind Hillary Clinton.
There is definitely a lingering distrust among this demographic over how the Clintons approached the issue of criminal justice, among other matters, while Bill Clinton was president.
As first lady, Clinton controversially referred to black youth as "superpredators" and supported a 1994 crime bill that catalyzed mass incarceration.
Clinton has not been able to escape the legacies of these statements and decisions during this election cycle.
While 92 percent of young black people voted for President Obama in 2012, support for Hillary Clinton among young black people peaked at 60 percent in August, according to The Guardian.
It's hard to say whether Jay Z will make a difference, or if young people will feel as if they are just being pandered to.
With that said, Jay Z is one of the most popular and respected celebrities in the US and widely considered the greatest rapper of all time, so having him in your corner certainly can't hurt.
Cleveland Cavaliers star LeBron James, who recently endorsed Clinton in an op-ed for Business Insider, is reportedly likely to make an appearance as well.
Jay Z, who famously supported President Obama in 2008 and 2012, has never been afraid to get political.
The rapper recently narrated a short film on the War on Drugs and its close links to mass incarceration.
He's also been very vocal on the issue of police brutality, which he reflected on in a song he released over the summer called "Spiritual."
Clinton has been outspoken about issues of race and police brutality this election cycle and supports the Black Lives Matter movement.
When it comes to these issues, Clinton definitely stands in stark contrast with her Republican opponent, Donald Trump, who has essentially no support among black voters.
Even still, it seems Clinton's campaign is very concerned with and focused on mobilizing black voters.
Relatedly, Clinton released an ad aimed at black voters on Monday, which is 30 seconds long and only features people of color.
President Barack Obama recently said it would be a "personal insult" to his legacy if black voters don't turn out and vote for Hillary Clinton on Election Day, which is now just 15 days away.
Citations: Jay Z Set To Hold Ohio Concert For Clinton Aimed At Young Black Voters (BuzzFeed)