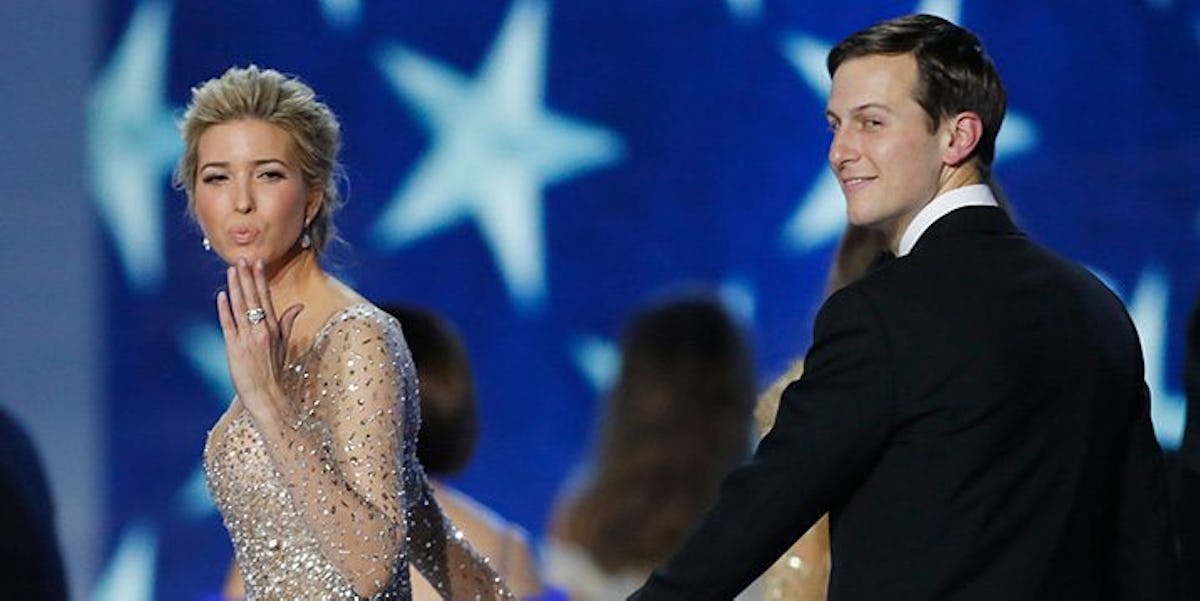 This Is What Happens To Ivanka Trump And Jared Kushner If President Trump's Impeached
Aaron P. Bernstein/Getty Images
Consider the events of the past couple of weeks, and it's easy to see why anyone would question what could happen to Ivanka Trump and Jared Kushner in case of impeachment. During any presidency, the idea that the president will be removed from office should be a long shot. And yet, during Donald Trump's presidency, there always seems to be a news story that makes the subject of impeachment just relevant enough to talk about.
Not too long ago, Republican Senator Lindsey Graham warned that impeachment would be an inevitability if President Trump fired special counsel Robert Mueller. Days later, the usually reserved Democratic Senator Dianne Feinstein made similar impeachment comments.
Mueller, a former FBI director, was brought in by the deputy attorney general to be an independent prosecutor overseeing the FBI's investigation into possible ties between Russia and the Trump presidential campaign.
Graham and Feinstein made their comments after Trump told the New York Times in July that if Mueller looked into the Trump family's finances, it would be crossing a red line. In other words, as rumors swirled that the president was contemplating firing an independent investigator, he implied on the record that a certain action by said investigator could prompt him to get fired.
On Thursday, Aug. 3, it was reported that Mueller is indeed taking that exact action and looking into President Trump's finances. So here we are again, at a point where the subject of the president one day being impeached has a little bit of plausibility.
What could happen to Ivanka Trump and Jared Kushner?
With the prospect of impeachment comes a lot of questions.
For instance, what would happen to White House staff members like Ivanka Trump and Jared Kushner? In the event of an impeachment, there is no definite consequence that the pair of senior advisors -- and Trump family members -- would face.
After all, impeachment only puts a president on trial before the Senate, which means the president would still be, well, president. There's no rule that says the president wouldn't be able to keep his staff. And even in the event of actual removal, in which case Vice President Mike Pence would become president, Pence could well decide he'd like to keep Trump and Kushner as advisors.
Just about the only thing the couple will have to look out for, for certain, is a wave of questions. When the prospect of impeachment is hanging over a White House, that usually means there's an investigation already in place (as there is during the Trump presidency). That investigation also means the people in a president's circle are subject to be called in as witnesses to a grand jury, which happened when former president Bill Clinton was being investigated.
When it comes to Trump and Kushner-specific cases, it becomes much easier to predict what types of pressure they'd face in such an event, given recent reports.
For instance, Politico reported last month that Democrats were becoming more interested in what Ivanka Trump knew about her husband's contacts with Russians. It wouldn't exactly be a shock, then, if she were asked to testify before Congress at any point.
As for Kushner, The Hill reported that Congress members were calling for the president's son-in-law to have his security clearance revoked. In the event that more suspicions are raised about the idea of Russian collusion, to the point that impeachment became likely, it'd also be likely that those calls for Kushner's security clearance to be revoked would increase as well.
The bottom line? Now that Mueller has similarly set up a grand jury, more questions are probably going to be asked of Ivanka Trump and Kushner, just as you'd expect for anyone close to the president. If any of those investigations eventually prompts Congress to impeach Trump, though, it doesn't exactly mean his daughter or son-in-law would be forced to leave the White House.