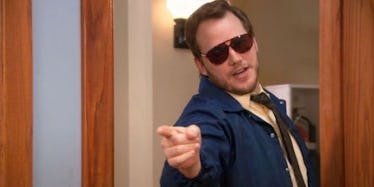 The FBI Needs A New Director, And Chris Pratt Knows Exactly Who It Should Be
NBC
On Tuesday, President Donald Trump sent shockwaves through the political world when he fired FBI Director James Comey.
Actor Chris Pratt knows exactly who should replace him: his "Parks and Recreation" alter-ego Burt Macklin.
It seems a lot of other people agree Macklin would be the perfect replacement.
Macklin, you son of a bitch, you just might be the solution to all of America's problems.
After a few years as FBI director, perhaps we'll see Macklin run for POTUS in 2020? The people are behind him.
There is no one more qualified for the job than this completely fictional character who's the alter-ego of a fictional character.
Macklin, and Macklin alone, will fix America.
We need you, Macklin, we really do.
Andrew G. McCabe, who served as deputy director under Comey, is now acting director following Comey's dismissal.
But the FBI will eventually need a permanent director.
The director of the FBI is appointed by the president and confirmed by the Senate.
It's not yet clear who Trump will pick, but whoever he ends up selecting will have to be top notch due to the controversial nature of Comey's departure.
The Trump administration claims Comey was fired because of how he handled the Clinton email investigation and due to the fact he "wasn't doing a good job."
But many find the timing curious given Comey was investigating the Trump campaign's possible collusion with Russian interference in the 2016 US presidential election.
Comey reportedly asked for more money for the investigation a few days before he was ousted.
Among other factors, this has led many to question what Trump's true motives for firing Comey were.
Given all this, President Trump faces a tough rough ahead in terms of the FBI director selection process.
If all else fails, Burt Macklin is standing by, ready to serve his country.