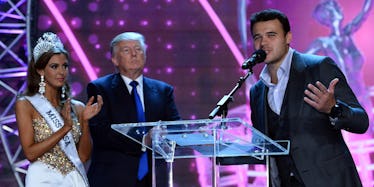 Russian Pop Star At Center Of Trump Jr Controversy Throws Some Serious Shade
Ethan Miller/Getty Images
Just when you think that the story of Donald Trump Jr's Russian meeting couldn't get any more dramatic, now we're getting a celebrity mixed up in it all.
Emin Agalarov is a Russian pop star and the son of Aras Agalarov, one of the richest men in Russia and a family friend of the Trumps. In the ever-snowballing scandal of Trump Jr.'s meeting with Natalia Veselnitskaya, he's the one who started it all off by suggesting the meeting. And on Tuesday, he posted the shaaaaadiest Instagram about the scandal.
That half of the caption in Russian, followed by the winking emoji? That translates to "what news?"
Oh, you know what news. You know very well what news.
In the emails released by Donald Trump Jr. on the morning of July 11, Agalarov features, if not prominently, significantly.
"Emin just called and asked me to contact you with something very interesting," is how the initial email from Rob Goldstone to Trump Jr. begins. The email goes on to offer the Trump campaign some "very useful" documents and information on opponent Hillary Clinton, an offer that later led to a meeting between Trump Jr, the president's son-in-law and current senior White House advisor Jared Kushner, and Paul Manafort with Kremlin-associated Russian lawyer Natalia Veselnitskaya.
When the meeting and its subsequent details came to light over the weekend of July 8-9, two statements from Trump Jr. identified the person who arranged the meeting only as "an acquaintance." It's unclear whether he was referring to Goldstone or Agalarov, but the subsequent emails make it pretty clear who was involved.
The comments are pretty hilarious too, considering.
One, translated from Russian, reads, "News on CNN :))," referencing the Trump family's ongoing social media feud with American news media in general and CNN in particular.
Another wants the deets. "It's like that? We are waiting for comments !!" says the translation.
One thing is clear: the art of good shade is international.