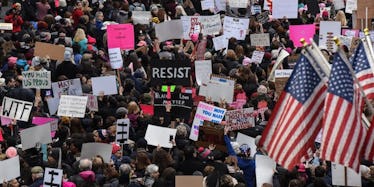 'A Day Without A Woman' Urges Women To Strike For Part 2 Of The Women's March
REUTERS
The Women's March on Washington the day after Donald Trump's inauguration was one of the largest resistance demonstrations in history, with about 3.3 million people participating.
The march took place around the world, on all seven continents. It was a peaceful resistance, but also the largest political demonstration in the US since the Vietnam War.
Unfortunately, with Trump implementing his Muslim ban soon after, as well as having Betsy DeVos confirmed as the new Security of Education, there's definitely the need for another strong statement... and the organizers of the Women's March have made that clear.
Yesterday, they tweeted and posted on Instagram about their next initiative: a strike.
The picture simply read,
General Strike: A Day Without A Woman Date To Be Announced
This strike comes just a few weeks after strikes by other groups affected by Trump's immigration ban made headlines.
On Saturday, January 28, members of the New York Taxi Workers Alliance went on a one-hour strike in solidarity with protesters gathering at JFK airport. A week later, members of NYC's Yemeni-American community shut their bodegas and held a public protest in Brooklyn.
The response has been overwhelming, with the initial Instagram post already receiving over 31,000 likes.
Feminist author Jessica Valenti and model, author and television personality Padma Lakshmi are just some of the people showing support for the mission.
The organizers of the march also said on Monday evening they will be "releasing information in the near future around plans to hold corporations economically responsible."
Especially since Nordstrom and other large department stores made statements by boycotting Ivanka Trump's brand, the financial value of the strike is clear.
The organizers wrote,
The Women's March applauds the efforts of #GrabYourWallet and others protests that brought the corporate practices of Uber and Nordstrom to light, and we support the continued coordination of economic power.
The resistance continues.
Citations: Women's March Organizers Are Planning A 'Day Without A Woman' (Huffington Post), Organizers Of The Women's March Now Want Women Across The Country To Go On Strike (Buzzfeed)