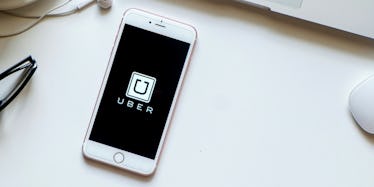 People Are Deleting Uber App After NYC Taxi Driver Strike Controversy
Shutterstock
After President Donald Trump suddenly imposed a travel ban preventing immigrants from seven predominantly Muslim countries from entering the United States, it seems like Uber somehow got caught in the chaos.
It's not too hard to see why Uber customers are furious, either.
On Saturday, the New York City Taxi Workers Alliance announced they'd be temporarily suspending taxi rides to and from JFK International Airport where several immigrants were being detained due to the travel ban.
Thousands of protesters flocked to JFK International Airport to stand up against Trump's controversial executive orders, as did NYC taxi drivers.
Instead of Uber joining the NYC taxi driver strike in support of the immigrants banned, the transportation company decided to continue service, resulting in Uber indirectly profiting off of Trump's ban.
Now, many people are calling for customers to delete their Uber app due to the company's lack of resistance against the ban.
The #DeleteUber hashtag calls for people to delete their Uber apps after the company failed to suspend service and stand in solidarity with NYC taxi drivers on strike protesting Trump's travel ban.
Instead of suspending service to show their support, the company continued and promoted their service. Uber is now accused of supporting "Trump and his fascist policies."
People are seriously deleting their Uber apps.
Some customers are even going a step further and deleting their Uber accounts altogether -- not just the app.
In addition to not striking with fellow drivers, Uber seemingly alerted potential customers that they were still accepting rides.
As Trump would say, that is so...
Many users are turning to Lyft, a similar ride service company that donated $1 million to the American Civil Liberties Union after the immigration ban.
All that did was further expose Uber's true colors (money-green).
As expected, Uber released a statement on the matter stating the company will be "standing up for what's right."
It might be too late to save quite a few ex-customers, though.
While many people agree with the #DeleteUber movement, there are still people who think the boycott may be counterproductive since innocent employees will be affected most.
A spokesperson spoke to CNBC, saying the company did not intend "to break up any strike" with its promotional tweet and that they simply wanted "people to know they could use Uber to get to and from JFK at normal prices, especially last night."
At this point, I think it's safe to say someone will always lose in a situation such as this one.
If Uber decided to go on strike with the NYC taxi drivers in an effort to denounce President Trump's immigration ban, many of the protesters at JFK wouldn't have been able to get around.
However, due to the fact Uber didn't temporarily suspend its service, the company is now experiencing backlash from many of its most loyal customers.
In other words, no one wins.
Citations: Uber customers lash out at ride sharing service amid anti-travel ban protests (CNBC)