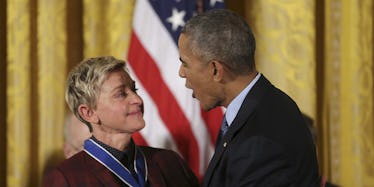 Celebrities Made A Video Honoring Obama And We're Already Crying
REUTERS
A group of celebrities got together to say an emotional goodbye to President Barack Obama as his presidency comes to an end.
After celebrating Obama with one last rager at the White House on Friday night, the entertainers got a little more serious in their reflections on his presidency.
They were asked to share a moment that made them say,
Yes we can.
This is, obviously, a reference to Obama's 2008 campaign slogan.
The video features a bunch of us normal folks as well as celebrities including Leonardo Dicaprio, John Legend and Ellen Degeneres.
Comedian Jerry Seinfeld said,
Knocking on the Oval Office window, I would say, that was probably the peak of my entire existence.
Feminist icon Gloria Steinem said,
It's the first time in my life I felt like the White House belonged to everybody.
Kerry Washington echoed that sentiment, saying that,
You felt those first three words of the the Constitution: 'We the People.' It was one of those first times in my life that I felt like I was really part of that 'We.'
Tom Hanks said that his "yes we can" moment was when Barack "changed all the rules" in regards to US-Cuban relations.
Leonardo DiCaprio, predictably, talked about climate change.
The actor casually humblebragged about being at the UN and hearing Obama say that "climate change is the most important issue facing not only this generation, but all future generations."
John Legend has been a part of Obama's presidency since before the start, as he performed at the 2008 Democratic National Convention.
Legend said in the video,
I never cried before from election results.
Ellen Degeneres, who was recently honored by Obama with a Medal of Freedom, said that making a skit with Michelle Obama was "pretty cool."
The talk show host added,
Dancing with Barack at his birthday party -- and he's a good dancer, you know. He should not get any flack for that. You're a good dancer.
It's safe to say we'll miss Barack's dancing skills in the White House.
Citations: The Hill