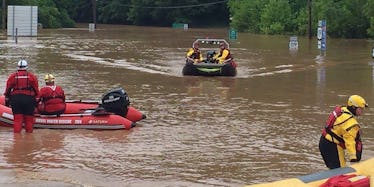 How To Get Involved If You're Worried About Climate Change Under Trump
REUTERS
Donald Trump has consistently argued climate change is a hoax.
When he becomes president, it's safe to say he will be ignoring this issue completely.
Trump recently selected a climate change denier to lead his EPA transition team.
If you take a look at what the president-elect has said on the topic, this doesn't come as much of a surprise.
But here's the thing: Climate change is happening, it's very real and it's a product of human activities.
While Trump seems to believe cold weather is a sign climate change isn't happening, the UN recently declared 2016 will be the hottest year on record.
We have to take this issue seriously.
Climate change brings with it rising sea levels and extreme weather events that threaten our very existence.
This is precisely why the Pentagon declared climate change an "immediate risk" to national security.
What's more, a recent report showed climate change could cost Millennials up to $187,000 each.
For the most part, it's up to nations with large carbon footprints like the US and China to take the lead in combatting climate change.
Sadly, it looks like Trump is going to scale back America's efforts to do this, while making the country even more dependent on fossil fuels.
If you're worried about climate change and Donald Trump's lack of concern about it, that's understandable.
But you're not completely helpless.
Here's how you can get involved:
Educate yourself and spread awareness.
Ninety-seven percent of climate scientists agree that climate change is real and it's a product of human activities.
So, even though many seem determined to paint climate change as a hoax, the experts are saying otherwise.
If you want more information on the basics surrounding climate change, NASA has got your back.
Less than half (48 percent) of Americans believe climate change is a product of human activities. We need this to change if we have any hope of altering our behavior to make it less impactful on the environment and climate.
Keep spreading the word.
There are practical things you can do at home, work and on your commute to protect the climate and reduce greenhouse gas pollution.
The Environmental Protection Agency (EPA) offers 25 simple steps you can take to protect the climate and reduce greenhouse gas pollution.
At home, for example, you can do things as simple as reducing the amount of water you use while also ensuring you reduce, reuse and recycle.
If you can afford it, also consider purchasing green power. You might want to consider installing solar panels, for example.
In terms of work, there are simple things you can do to reduce energy use like unplugging laptop cords when not in use.
You also might want to consider walking or biking to work if it's practical.
These are all small ways we can help in the fight against climate change.
Call your local politicians.
Get active. Call up your mayor, governor and other local leaders and let them know you're concerned about climate change.
Ask them what they are doing to ensure your community, city or state is doing to protect the climate.
Are they investing in green energy? Do they even believe climate change is happening?
Pressure them to address this issue.
Call up your elected representative in Congress and tell her or him that doing nothing to address climate change is simply not an option.
Get active.
There are a lot of organizations focusing on climate change you can get involved with.
Here are a few:
Vote.
Vote in the 2018 midterms. Do your part to make sure we elect leaders who care about the environment.
We only get one planet, and we need to take care of it.
Citations: New York Times, The Guardian, Scientific American, Think Progress, NASA, Pew Research Center, US Environmental Protection Agency, US Environmental Protection Agency, US Environmental Protection Agency, United States House of Representatives