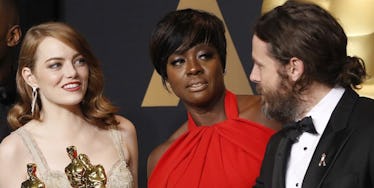 Casey Affleck's Company Donated To Trump And His Defense Was So, So Lame
REUTERS
There's now an official link between actor Casey Affleck and President Donald Trump — aside from the fact they've both been accused of sexual misconduct and still thrived in their chosen career paths, because white men.
As Affleck was on track to win an Oscar for Best Actor, news came out his company had donated to the Trump transition team.
Affleck's production company, the Affleck/Middleton Project, which he founded in 2014 with John Powers Middleton, donated $5,000 to Trump for America, which supports Trump's presidential transition.
So while celebrities in the auditorium were busy making statements — both visually and verbally — against Trump and his discriminatory policies and history of sexual misbehavior and sexism, Affleck was trying to explain why his company donated to the man.
The Affleck/Middleton Project was also behind "Manchester By The Sea," the movie for which Affleck won Best Actor.
Affleck said he had no idea about the donation.
In a statement given to BuzzFeed, he said,
I am appalled that a donation may have been made in my company's name by someone I work with. I had no knowledge of it, was never asked and never would have authorized it. I will get to the bottom of it. The policies of the Trump administration, and the values they represent, are antithetical to everything I believe in.
The actor previously said Trump's policies are "un-American." At the Oscars, he said in his acceptance speech,
Uh, dammit [...] Man, I wish I had something bigger and more meaningful to say, but I just, uh, I'm really proud to be a part of this community.
Magdalena Górka and Amanda White worked on the film with Affleck when the misconduct occurred.
Górka said she faced "a nearly daily barrage of sexual comments, innuendo and unwelcome advances by crew members, within the presence and with the active encouragement of Affleck."
She said she woke up one morning after a shoot with Affleck "curled up next to her in the bed wearing only his underwear and a T-shirt. He had his arm around her, was caressing her back, his face was within inches of hers and his breath reeked of alcohol."
The women and Affleck eventually settled.
Trump was accused of sexual assault and misconduct by nearly a dozen women over the course of the presidential election.
He was caught on video saying that he grabs women by the pussy and doesn't wait before kissing beautiful women, actions which are considered to be sexual assault.
Can't imagine why Oscar-winner Affleck would feel empathy — and perhaps consider putting that empathy into dollars — for President Trump.
Citations: Casey Affleck's Production Company Gave Money to the Trump Transition Team (Cosmopolitan), Casey Affleck Is "Appalled" His Production Company Donated To Donald Trump's Transition Team (BuzzFeed)