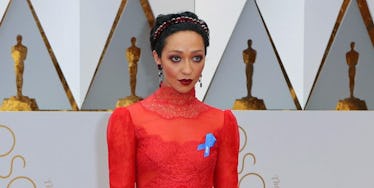 Oscar Stars Wore Same Tiny Detail On Their Outfits To Subtly Protest Trump
REUTERS
A host of celebrities wore a little light-blue ribbon on their fancy Oscars getups on February 26.
I first noticed it when staring at the gorgeous Karlie Kloss walking the red carpet. Her all-white gown was marked with one blue pop of color. I wondered for a moment if it were part of the dress, or maybe an added pendant.
But seeing as it was a ribbon, it had to be more than just some pizzazz. And, sure enough, it was.
The light blue ribbons at the Oscars were actually ribbons for the ACLU.
The American Civil Liberties Union is an organization that fights legal battles to protect civil liberties, like the right to vote and not face discrimination and generally live your life on the principles on which this country was founded.
Kloss was far from the only celebrity sporting a ribbon for the ACLU.
Lin-Manuel Miranda — along with his mother — sported ACLU ribbons.
Busy Philipps, who went as Michelle Williams' Oscars date, wore a blue ribbon.
Ruth Negga, star of "Loving," accentuated her red Valentino gown with a blue ACLU ribbon.
This was especially meaningful because of the role she played. "Loving" tells the true story of married interracial couple, Richard and Mildred Loving.
When they got married, it was illegal in some states for black and white people to wed. The Lovings fought along with the ACLU for their right to be together, ultimately changing the law at the Supreme Court in Loving vs. Virginia.
Negga said on the red carpet,
[The ACLU] change the Constitution for the better, and that's what they're about. They're about equal rights for all, unequivocally. That's what we should all be about.
The ACLU blue ribbons even got award-winning moments at the Oscars.
Emma Stone donned an ACLU ribbon while getting ready for an after party.
"Moonlight" director Barry Jenkins wore an ACLU blue ribbon and shouted them out while accepting an award.
While accepting the award for Best Adapted Screenplay, he said,
All you people who feel like there's no mirror for you, the Academy has your back, the ACLU has your back, we have your back and for the next four years, we will not forget you.
The blue ribbons weren't the only political statements made through fashion at the Academy Awards this year.
Director Ava DuVernay also made a statement with clothing.
She wore a gown by Mohammed Ashi, who is from Saudi Arabia and launched Ashi Studio in Lebanon.
DuVernay tweeted she wore a designer "from a majority Muslim country" as a "small sign of solidarity."
Donald Trump attempted to ban people from seven predominately Muslim countries with an executive order.
The ACLU is not currently selling their blue ribbons from the Academy Awards.
They are selling some similar-looking lapel pins... but those sold out quickly after the Oscars ended.
I think we know what is the hottest new accessory.
Citations: Here's Why Lin-Manuel Miranda, Karlie Kloss and More Stars Wore Blue Ribbons to the Oscars (ET), See Ava DuVernay's Anti-Trump Statement at the Oscars (Vanity Fair), THE ACCEPTANCE SPEECH FOR "MOONLIGHT" SCREENPLAY WAS A BEAUTIFUL CALL FOR INCLUSION (Harpers Bazaar)