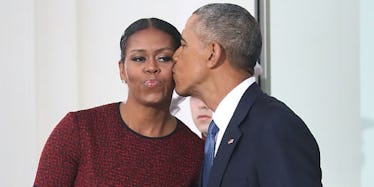 Barack Obama Thanking Michelle For 'Sticking With Him' Will Make You Swoon
Getty Images
Barack Obama never hesitates to show the entire country how much he adores his wife, Michelle.
Whether he's holding her hand or acknowledging their love for one another during a public appearance, Barack seems continuously proud of the former First Lady -- and we can't get enough of their romance.
The cuteness continued on Sunday during Barack's acceptance speech for the John F. Kennedy Library Foundation's "Profile in Courage" Award. He took a few moments to thank Michelle for "sticking with him" after his presidency, and their interaction is almost too adorable to handle.
During Obama's acceptance speech, he praised his beloved wife and said,
I also want to thank Michelle Obama for, after the presidency, sticking with me. Because I think she felt an obligation to the country to stay on, but once her official duties were over, it wasn't clear.
Of course, the crowd giggled after his comment, and he continued to shower Michelle with serious respect and affection.
He said, "I love my wife. and I'm grateful for her, and I do believe that it was America's great good fortune to have her as first lady."
We agree, Barack. We agree.
Even though Barack and Michelle are no longer in the spotlight residing in the White House, their marriage continues to be iconic, and the nation is still swooning.
This obviously isn't the first time Barack has showed serious affection for Michelle in the public, though.
The former president has shamelessly showered Michelle with kisses during events, cuddles during their vacation and even tweets and Instagram posts showcasing his love for her.
However, recent news emerged Michelle Obama might not have been the first lady if Barack followed through with an earlier love, Sheila Miyoshi Jager.
If you aren't sure who Sheila is, sit back and read up because that is a whole new story.