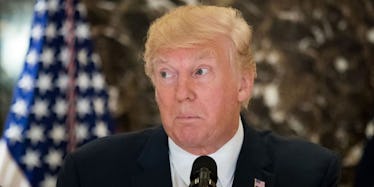 Almost Half Of The Country Supports Impeaching Trump, Poll Shows
Drew Angerer/Getty Images
After his controversial remarks on Charlottesville, a lot of Americans seem to be asking the same question: Will Trump be impeached? According to a new Public Religion Research Institute (PRRI) poll, 40 percent of Americans now support impeaching Trump, NBC News reports. This represents a 10-point jump from February. The poll was conducted Aug. 2 through 8, which was before the events in Charlottesville. In other words, Trump was already extremely unpopular and support for impeaching him was growing even before he took an ambiguous stance toward neo-Nazis.
The PRRI poll found support for impeachment was much stronger among Democrats (72 percent) than Republicans (7 percent). Back in February, 58 percent of Democrats and just 4 percent of Republicans supported impeaching Trump, according to PRRI. This means support for removing Trump from office is even growing among voters from his own party, albeit only by a few percentage points. The poll also showed Trump's favorability rating is at 38 percent, while 56 percent of people view him unfavorably.
The increase in support for Trump's impeachment could be linked to a number of factors, including the ongoing investigation into his campaign's alleged collusion with Russia. It could also be a consequence of Trump's bombastic, antagonistic rhetoric toward North Korea, which many worried was taking the United States to the brink of nuclear war. A CBS News poll from Aug. 8 showed 61 percent of Americans were "uneasy" about Trump's approach to the situation with North Korea, for example.
On Thursday, Aug. 17, Democratic Rep. Steve Cohen of Tennessee tweeted he planned to introduce articles of impeachment against Trump in relation to his comments on Charlottesville.
Cohen would not be the first Democrat to do so. On July 12, Democratic Rep. Brad Sherman formally filed an article of impeachment against Trump in relation to his controversial dismissal of former FBI Director James Comey.
Only two presidents in history -- Bill Clinton and Andrew Johnson -- have been impeached. Both were ultimately acquitted in the Senate. So, impeachment is not something that happens very often. Moreover, this process cannot happen without Congress. At the moment, Congress is controlled by Republicans -- Trump's party. While Trump doesn't have the best relationship with his party at the moment, it's still hard to believe Republicans would support a process that could see a member of their own party removed from office. Then again, if public support for impeachment continues to grow, they could be forced to at least consider the prospect in the future.
One thing is for sure: A lot of Americans are really upset with the president right now.