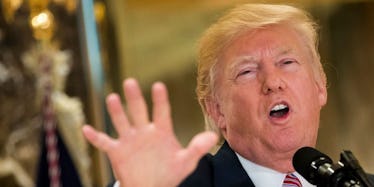 "Alt-Left" Tweets Show Trump Has America At The End Of Its Wits
Drew Angerer/Getty Images
President Donald Trump just doesn't seem to know when to stop. On Tuesday, Aug. 15, the president once again blamed fatal violence that occurred in Charlottesville, Virginia on Aug. 11 and 12 during a march organized by white supremacists on more than one side, including what he referred to as the "alt-left." Trump's comments prompted a slew "alt-left" tweets, which revealed many people have had just about enough of this president. On Aug. 12, in his initial response to the events in Charlottesville, Trump blamed "many sides" for what occurred. His choice of words and apparent refusal to firmly condemn white nationalism generated widespread outrage. On Monday, Aug. 14, the president issued a revised statement on Charlottesville -- after reportedly being pressured by his advisers -- in which he explicitly decried racism and the hate groups that were present in Charlottesville. Now, however, Trump seems to be going full steam ahead with his belief the violence should be blamed on "both sides." To put it another way, the President of the United States has exhibited a lukewarm stance toward neo-Nazis and the KKK twice in one week. Many people are understandably furious.
People can't seem to understand why the president is apparently unwilling to take a clear stand against neo-Nazis and the KKK, because that should be a no-brainer. They're also ridiculing Trump for using the phrase "alt-left," because it's not a thing.
David Duke, the former head of the KKK, thanked Trump for also blaming the "alt-left" for what happened in Charlottesville.
So, yeah, the president makes white supremacists feel good about themselves.
A brave young woman who took to the streets to protest against racism died on Saturday, Aug. 12, in Charlottesville because a car driven by a white nationalist plowed into the crowd she was in. Her name was Heather Heyer. Instead of fully taking a stand against the literal Nazis who Heyer died protesting Trump decided to place some of the blame for what happened on a group that doesn't really exist. Will someone please step up and lead this country? Based on his behavior, Trump arguably doesn't want the job whatsoever.