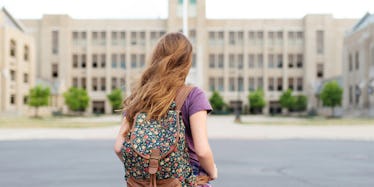 Pregnant Teacher Fired After Seducing Teen Into Sex By Calling Her Crying
If you've been paying attention to the news, you may have noticed a lot of teachers making headlines lately.
First, there was the Iowa teacher who was seduced by her student via Post-It notes.
Then there was the married teacher who gave one of her students three blowjobs on a plane.
Now, an educator from Auckland, New Zealand, Kiri Jasmine Kay, is in serious trouble for engaging in a variety of inappropriate extra circular activities with one of her students, a disciplinary tribunal says.
That's right. The pregnant teacher was fired after seducing a teen into having sex with her on multiple occasions.
Apparently, Kay, who worked as a teacher at Sir Edmund Hillary Collegiate School, began having a sexual relationship with the 17-year-old female student in 2015.
If that's not bad enough, Kay would also invite the student to her house, where she'd have sex with her partner in front of the girl and also "permitted" her partner to have sex with the teenage student.
According to a decision by the New Zealand Teachers' Disciplinary Tribunal, the teenager tried to end the relationship with her teacher.
However, Kay continuously guilted the girl into staying in the inappropriate relationship.
In fact, the decision from the Tribunal stated that the student "made attempts to stop seeing the respondent, but the respondent would contact [her] by phone and cry. As a result, [she] felt bad and agreed to the sexual relationship continuing."
In March 2016, the student finally told another teacher about the sexual relationship, who in turn, notified the principal about what was going on between Kay and the student.
As a result of this, Kay was place on leave and then resigned from her teaching position later that month.
This isn't the first time that Kay scolded for engaging in bad behavior with her students.
On two different occasions, Kay was disciplined for allowing minors to drink alcohol.
The Tribunal wrote that Kay allowed a group of 17-year-old students to drink booze during a school trip, and even drank with them.
Then during another incident, Kay allowed her niece, nephew and an underage student drink alcohol during a trip.
The Tribunal has stripped Kay of her teaching registration and ordered the former-teacher to pay 40 percent of the costs for case involving her and the underage student.
Citations: Female teacher has sex with student, 17 (NZ Herald)