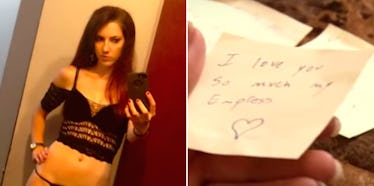 Teacher Says Sex With Student Started After He Seduced Her With Post-It Notes
YouTube
A former teacher accused of having sex with a student "almost every day" for six months claims he seduced her with Post-it notes.
Mary Beth Haglin, a 24-year-old substitute teacher at Washington High School in Cedar Rapids, Iowa, turned herself in to police in July and was charged with sexual exploitation of a minor.
Her relationship with the 17-year-old fell apart after another student caught them together, she told Inside Edition.
When he came into my classroom he would grab a Post-it, sit down, scribble a little note and stick it on my desk on his way out. He would always call me his 'empress.' I was completely head over heels.
She showed Inside Edition one of a number of Post-it notes allegedly left by her former lover. One read,
I love you so much my empress.
It included a doodle of a heart.
In return, Haglin sent the student sexy selfies. They would regularly have sex in her car throughout their relationship.
She added,
I never thought it would get this far and I apologize so much. I realize now how stupid I was and what a terrible mistake I made. I want to go back there and just smack myself and say 'What were you thinking Mary Beth?'
Haglin faces up to two years in prison if found guilty.
Citations: Inside Edition