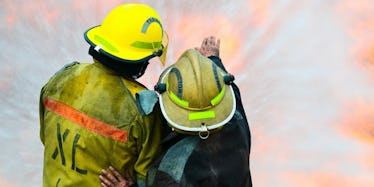 Guy Saws Penis After It Gets Stuck In Water Bottle And The Pic Is Disturbing
Ryan Dearth Photography
Please, say it ain't so.
A man from Malaysia recently got his penis stuck inside a water bottle, and firefighters had to help him free his member from the plastic.
I don't have a penis, so I'm not exactly sure how painful this incident was, but by the looks of it, freeing his dick wasn't an easy task.
Before you take a glance at the lowest moment of this man's life, allow me to show you a few more instances where men have gotten their penises stuck in undesirable objects.
Take this man, who got a metal cock ring stuck to his penis and had to have it removed with bolt cutters.
... or this poor fella, who got a USB chord stuck inside his penis while he masturbated (OUCH).
And finally, there's this guy, who unfortunately got his penis stuck in a wedding ring for two whole days.
Basically, this guy isn't alone because there are a lot of dudes out there who have gotten their private parts stuck in a foreign object or two.
As for this case, the bottle's victim had to pee but he couldn't find a bathroom. Alas, one of the worst feelings a human can possibly feel.
So, like many of us are guilty of doing, he resorted to using a water bottle.
However, just as the unnamed man began to relieve himself with the plastic container, he got his penis stuck inside of it.
Yes, you read that correctly: He got his penis trapped inside the water bottle.
A picture released from the scene shows a man lying on the ground with a piece of cloth over his face and his pants pulled down.
There are a few men who can be seen gathering around his groin area (which is blurred) as they try to rescue his penis from the plastic.
Apparently, the man whose penis was stuck tried to free it by himself for an hour before calling his father for help.
Mortifying, I know.
Before receiving help, the 21-year-old allegedly tried using a metal hacksaw to cut his penis out of the bottle.
OUUUCH.
Soon enough, firefighters from the Andalas and Port Klang fire stations were called to the scene to help the mortified man free his penis.
Luckily, they were able to remove the man's member from the plastic in 10 minutes, but there was certainly damage done to the penis before they arrived.
According to The Star, a spokesperson for the fire department commented on the self-inflicted wounds and said,
He used a metal saw, inflicting wounds on his penis… He was bleeding profusely.
Talk about a hellish scene. Sheesh.
After he was freed from the water bottle, he was sent to Tengku Ampuan Rahimah Hospital for further treatment. For his sake, let's hope no permanent damage was done.
I suppose the lesson here is to make sure you find a bathroom before resorting to urinating in a water bottle.