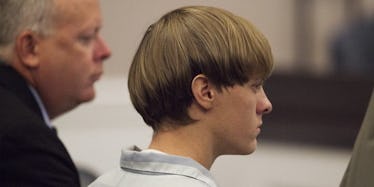 Dylann Roof Makes Disturbing Final Statement Before Receiving Death Penalty
REUTERS
A decision was made in the sentencing of Dylann Roof, who shot and killed nine people at the Emanuel African Methodist Episcopal Church in Charleston, South Carolina.
Roof was sentenced to death on Tuesday.
The victims were Reverend Clementa Pinckney, 41; Tywanza Sanders, 26; Cynthia Hurd, 54; Sharonda Coleman-Singleton, 45; Susie Jackson, 87; Ethel Lance, 70; Reverend DePayne Middleton Doctor, 49; Reverend Daniel Simmons Sr., 74 and Myra Thompson, 59.
This was the second phase of Roof's trial for the Charleston church shooting. The first happened in December to determine if Roof was guilty or not guilty.
Roof was found guilty on 33 out of 33 charges he was facing in December.
The charges Roof was found guilty for included the possible sentence of the death penalty.
Roof confessed to killing people at the Emanuel AME Church after being captured by the FBI following the shooting on June 17, 2015.
In his closing argument in the second phase of the trial on Tuesday, Roof said,
You may remember in my confession I said I had to do it. I guess that's not really true: I didn't have to do it; no one made me do it. What I meant when I said that was I felt like I had to do it, and I still feel like I had to do it.
Roof is a self-described "white nationalist" who specifically targeted the Charleston church because of its history within the black community.
He has maintained his killing was motivated by race.
The trials have been highly emotional. They included a series of evidence, including photos from the crime scene and CCTV footage of the outside door to the church from the day of the shooting.
Felicia Sanders, one of three survivors of the shooting, told the court the story from her perspective on the first day of the first phase of the trial.
She said,
The defendant over there, with his head hanging down, refusing to look at me right now, said, 'I have to do this because y'all are raping our women and taking over the world.' That's when he put about five bullets in my son.
The second phase of the trial featured a jury deciding if Roof would be sentenced to the death penalty or life in prison.
Although Roof had an attorney for the first phase of the trial, he asked to represent himself for the sentencing phase.
A formal sentencing hearing will be held on Wednesday morning.