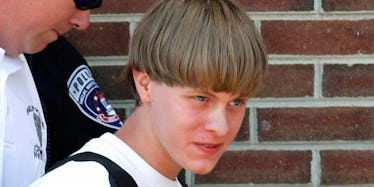 Video Shows Dylann Roof Arrogantly Confessing To Killing 9 While Eating Burger
REUTERS
The trial of Dylann Roof, who shot and killed nine people at the Emanuel African Methodist Episcopal Church in Charleston, South Carolina, continued on Friday, December 9, with a viewing of an interview with the FBI.
FBI Special Agent Michael Stansbury interviewed Roof for about two hours the day after the shooting. Roof was given a Burger King burger, which he ate during the interview.
Roof told the FBI that he "went to that church in Charleston and, uh, I did it," the Post and Courier reported.
The agents pressed him on what "it" was. He chuckled and said,
Well, I killed them, I guess.
The agent asked if he shot them, and Roof responded that he did.
The agent asked how many people he shot, and Roof said he thought four or five. When he was told it was nine, he said he didn't think there were nine people in the room.
Roof's trial started on Wednesday, December 7, with a harrowing account of the shooting from survivor Felicia Sanders.
After 45 minutes to an hour of Bible study, the group members closed their eyes to pray. That's when Roof began shooting.
The victims were Reverend Clementa Pinckney, 41; Tywanza Sanders, 26; Cynthia Hurd, 54; Sharonda Coleman-Singleton, 45; Susie Jackson, 87; Ethel Lance, 70; Reverend Depayne Middleton Doctor, 49; Reverend Daniel Simmons Sr., 74 and Myra Thompson, 59.
In the FBI video, which has not been made publicly available as of the afternoon of December 9, Roof said he thought he sat with them for 15 or 20 minutes. He said he sat silently for so long, as he was considering whether or not to kill the churchgoers.
Roof told the FBI in the video that he killed the nine people to make a statement against black people.
He said,
Somebody had to do something because, you know, black people are killing white people every day on the street, and they're raping white women.
Roof called his killings "minuscule" compared to that.
He said that he supports Hitler and was driven to think about violence based on race after the killing of Trayvon Martin. He said he considers himself a "white nationalist."
This is when he got the idea of "black-on-white crime," which led to the shooting.
Roof specifically chose the Emanuel AME Church after researching AME churches. He had asked a churchgoer about the schedule of Bible study and services there. Roof said,
I just knew that would be a place where there would be a small amount of black people.
He said he does not wish there were more people in the Bible study that night because he "would have shot everyone in there."
In the courtroom, Stansbury said,
He was not upset, crying or showing any emotions.
The second day of the trial, Thursday, December 8, featured crime scene investigators showing the photographic evidence they had collected.
This included surveillance video of Roof calmly leaving the church after the shooting.
In the FBI video, Roof said he expected the police to show up after he started shooting. He was planning to kill himself with the remaining bullets, but changed his mind when he found no police there.
Roof said he bought the gun when he turned 21.
Roof's defense team is not trying to get a not guilty decision.
They are trying to get Roof a sentencing of life in prison rather than the death penalty.
Roof has said he wants to represent himself for the sentencing portion of his trials.
In the FBI video, an agent asked Roof how he felt after he killed nine people. Roof said,
It makes me feel bad.
The agent then asked him why he felt bad if it had been his mission to kill a group of black people. Roof did not give a full answer.
Citations: Post and Courier, Associated Press, ABC News