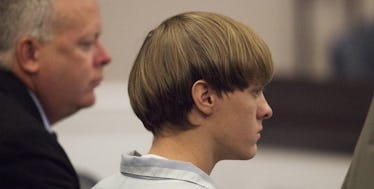 Courtroom Sobs As Dylann Roof Trial Begins With Survivor's Devastating Story
REUTERS
The trial of Dylann Roof, who shot and killed nine people at the Emanuel African Methodist Episcopal Church in Charleston, South Carolina, began on Wednesday, December 7, with an emotional testimony from a survivor.
Felicia Sanders, one of three survivors of the shooting on June 17, 2015, took the stand and described the night of the attack.
The church was having Bible study the night Roof walked in and joined the group.
According to Sanders, it was not unusual for new people to come in for Bible study.
The Washington Post reported that while looking at Roof, Sanders said,
If that guy over there came into the church and said I need a place to stay, I guarantee he would be staying at my house. I just thought he was somebody coming in to seek the Lord.
Roof sat next to Reverend Clementa C. Pinckney, who handed him a Bible and study guide to follow along. Roof sat with the group, mostly keeping his head down, for around 45 minutes to an hour.
At the end of Bible study, the group members closed their eyes to pray.
This is when Roof started shooting, hitting Pinckney first. Sanders said,
Next thing I know, bullets started flying everywhere.
She stayed under the study table holding her 11-year-old granddaughter, who she told to be quiet and play dead.
She was surrounded by her son, Tywanza, 26, and Susie Jackson, 87, her aunt. Sanders said,
I could feel the warm blood flowing on either side of me.
Retired nurse Polly Sheppard was on the ground praying. Roof approached her and said he would let her live so she could tell the world what he had done.
Tywanza, who had already been shot, stood up to protect Sheppard and ask Roof why he was killing these people.
Sanders said,
The defendant over there, with his head hanging down, refusing to look at me right now, said, 'I have to do this because y'all are raping our women and taking over the world.' That's when he put about five bullets in my son.
As Roof left the church, Tywanza started screaming for "Aunt Susie" [Jackson]. He told his mother he had to "get to Aunt Susie."
Seventy-seven shots in that room, from someone we thought was looking for the Lord.
Sanders told Tywanza she loved him, and he told his mother he loved her. He asked for water, saying he couldn't breathe.
Sheppard took a white tablecloth from a table to help Tywanza.
Sanders said,
Then we watched him take his last breath. I watched my son come into this world, and I watched my son leave this world.
As Sanders spoke at the trial, the friends and family members in the court gallery sobbed, according to the Washington Post. One woman left the room.
The courtroom sketch artist was crying, as was Sanders herself, who said,
Seventy-seven shots in that room, from someone we thought was looking for the Lord.
Sanders called Roof "evil, evil, evil as can be," adding that he "deserves to go to the pit of hell."
In addition to Tywanza Sanders and Pinckney, Roof killed Cynthia Hurd, 54, Reverend Sharonda Coleman-Singleton, 45, Susie Jackson, 87, Ethel Lance, 70, Reverend Depayne Middleton Doctor, 49, Reverend Daniel Simmons Sr., 74, and Myra Thompson, 59.
Roof has admitted to killing the nine people, saying that he did it because of "black-on-white crime."
He faces 33 counts in federal court, including 24 for federal hate crimes.
His attorney explained in court on Wednesday that he is not fighting to find Roof not guilty, he is fighting to get a sentencing of life in prison rather than the death penalty.
On Thursday morning, December 8, Roof's attorneys tried to get a mistrial. They argued that Sanders's testimony that he "deserves to go to the pit of hell" and is "evil, evil, evil as can be" was inappropriate.
Judge Richard Gergel denied that request, calling Sanders's words "a religious comment" and reminding the jury that the decision on guilt and sentencing is up to them. The trial continues.
Citations: NBC News, Washington Post, WKYC, Associated Press, Post and Courier