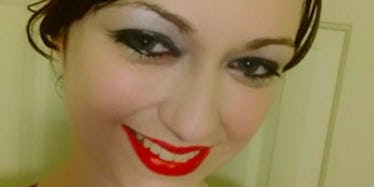 Detective Cries Over Woman Found 'Chained Like A Dog': 'We Saw A Lot Of Things'
Facebook
Kala Brown and her boyfriend, Charlie Carver, went missing in South Carolina on August 31.
Their whereabouts remained a mystery for two months as eerie Facebook posts began appearing on Carver's page, even though no one could find him.
Last week, Greenville Police found Kala Brown "chained like a dog" to a metal storage container on the 100-acre property of Todd Kohlhepp, an alleged serial killer accused of murdering at least seven people.
One of his suspected victims was Brown's boyfriend, Carver, whose body was found on Friday with multiple gunshot wounds on the same property where Brown was kept.
According to ABC News, the two detectives who found Brown finally spoke up about what it was like to discover such a nightmarish scene.
Detective Bradley Whitfield of the Anderson Police Department told ABC News he was "shocked and amazed" upon finding the chained-up woman.
Detective Charlynn Ezell, who also discovered Brown, reportedly said,
She just looked at me and said 'Thank you so much for finding me.'
Apparently, the detectives discovered the 30-year-old woman when they heard "banging" coming from the storage container two months after she went missing.
They reportedly began their search after a "cell phone ping" led them to the property.
Whitfield continued to discuss the horrific things he saw that day while investigating Kohlhepp's chilling property. By the sound of it, they'll be having nightmares for quite a long time.
In tears, he said,
I think we all saw a lot of things that day that are going to stay with us.
It's been reported Kohlhepp, 45, showed law enforcement officers where he buried two more victims' bodies on his property one day after Carver's body was found.
Authorities are allegedly searching other states for more properties owned by Kohlhepp.
However, Whitfield expressed how he wished he could have done more to help in the case of Brown and Carver.
While crying, he said,
It could be anybody's child, anybody's wife or husband. I wish we could have done more.