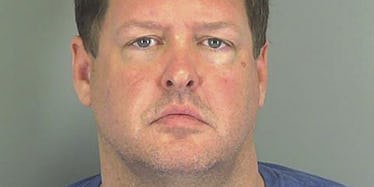 Man Who Kept Woman 'Chained Like A Dog' Suspected Of At Least 7 Killings
REUTERS
A South Carolina man accused of chaining up a woman by the neck and leaving her in a storage container for two months may be responsible for at least seven killings, ABC News reports.
Todd Kohlhepp, 45, allegedly confessed to numerous murders after police found Kala Brown, 30, on his 100-acre property in Woodruff, South Carolina last week.
Her boyfriend, Charlie Carver, who was reported missing alongside Brown on August 31 this year, was identified as a victim after his body was discovered near where Brown was being kept. Authorities say he had multiple gunshot wounds.
Kohlhepp was arrested and has admitted to the killings of the owner, service manager, mechanic and bookkeeper of Superbike Motorsports shop in Spartanburg County back in 2003, reports ABC News. At the time, rumors circulated they were gunned down by Mexican drug dealers.
Sheriff Chuck Wright said,
God answered our prayers. If it wasn't for Him answering our prayers and Todd talking to us, I don't know that we'd ever solve that case.
Over the weekend, Kohlhepp joined officers in prison garb as they scoured the land for potential burial sites of more victims.
He allegedly pointed out the burial sites of two other victims in addition to Carver, bringing the total to seven.
Kohlhepp has a criminal history.
When he was 15 years old, he was convicted of raping his 14-year-old neighbor a gunpoint and was made to register as a sex offender.
It was a sex crime investigator who advised officers to search Kohlhepp's property where Brown was being held captive in a storage bin.
Police were searching the home when they heard a loud bang and discovered her chained up.
She allegedly told authorities there were multiple bodies on the property.
Throughout the search for the missing couple, eerie Facebook updates were posted on Carver's page.
Some posts were random updates, and at one point, his relationship status was changed so it said he was married to Brown.
On October 2, a photo was uploaded with the words,
Admit it... Life would be boring without me.
Carver's Facebook page has since been deactivated.
Citations: ABC News