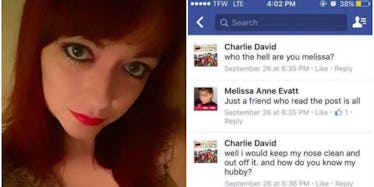 Missing Woman Found 'Chained Like A Dog' In Bin After Eerie Posts Appear On FB
Facebook
A woman who has been missing with her boyfriend since August was found "chained like a dog" inside a storage container in South Carolina.
Greenville Police found Kala Brown, 30, on a property in Wofford Road, Spartanburg County weeks after bizarre and creepy Facebook updates were posted on her partner Charlie Carver's page.
The couple was reported missing on August 31.
Authorities were searching a property after getting a tip from a sex crime investigator when they heard loud banging from a metal storage container, reports WYFF4.
Sheriff Chuck Wright said Brown was chained up around the neck like an animal and was lucky to be found alive. It is believed she had suffered in those conditions for two months.
The sheriff said Brown told investigators there were more bodies on the 100-acre property, and guns and ammunition were also discovered. He said,
We're trying to make sure we don't have a serial killer on our hands.
Brown was taken to the hospital. Details of her condition are not known at this stage.
Throughout the investigation, eerie Facebook updates were posted on Carver's page.
Some posts were random updates, and at one point, his relationship status was changed so it said he was married to Brown.
On October 2, a photo was uploaded with the words,
Admit it... Life would be boring without me.
Carver's Facebook page has since been deactivated.
The search was sparked after communication seized between the couple and their friends and family. A friend of Brown's said she had dinner with her on August 29.
After concern grew, Brown and Carver's parents visited the apartment the couple lived in together to find the door unlocked and their pet dog with no food or water.
Todd Kohlhepp, 45, has been arrested in connection with the investigation.
Police are still searching for Carver.