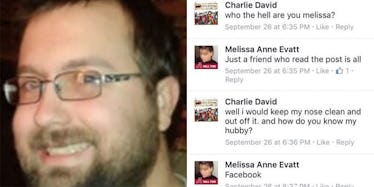 Eerie Posts Appear On Missing Man's FB: 'Life Would Be Boring Without Me'
Facebook/Charlie David
Charlie Carver and his girlfriend have been missing for over a month, and yet he's still uploading Facebook posts.
Well, "he" actually appears to be an imposter, but the posts are still frightening Carver's family.
Younger sister Katie told the Daily Beast,
I wish I could tell them to stop. If they know where he is, bring him home.
Since their disappearance, Charlie's page has frequently shared status updates, like one stating he and his girlfriend are "married."
Some are random -- a news link, an irrelevant meme, etc. -- and others a bit more frightening. But all of them are downright eerie.
One post was a photo with words that read,
And here's another example. On September 4, Katie Carver shared an emotional and heartfelt note. It featured a picture of the 32-year-old Carver and his 30-year-old girlfriend. In the post, Katie asks for prayers for her missing brother.
On September 16, "Charlie" shared the same photo and note on his wall.
The couple disappeared on August 31.
According to NBC, David's car is gone and the couple's cellphones have been off. They also left their dog and medication at home.
Police seem stumped.
We tracked down the leads we had, but there isn't very much. We just want to make sure they are OK, because it has been some time.
Police may not know where to go yet, but other Facebook friends have a few ideas.
Commenters on David's page have noted a woman suspected to be his ex-wife responded to some of his posts.
Regardless of who is using the page, one thing's for sure, the family just wants them home.
Kala Brown's mother, Bobbie Newsom, told NBC,
There are so many people who are worried about them and love them. Whatever the problem, we'll figure it out. No one here will judge them. We love them.
Here's to hoping they do return.
Citations: The Daily Beast, NBC News