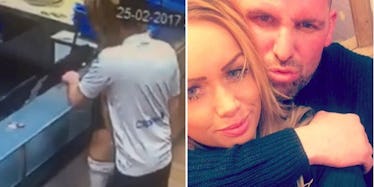 Cops Only Question Woman From Viral Domino's Sex Video And Reason Why Is Absurd
Facebook
Think back to a couple of weeks ago when we first met Craig Smith and Daniella Hirst.
Their names might not ring a bell, but you may remember them as the lovebirds who ordered their Domino's pizza with extra sausage, if you know what I mean.
That's my subtle way of saying they had sex while ordering a takeout pizza in Yorkshire, England, and it was picked up by surveillance cameras before being plastered all over the internet.
Anyway, the adventurous couple admitted last month they feared being arrested — but now it has emerged that Daniella will be questioned by police, but Craig won't.
Confused? Allow Daniella to explain.
She told The Sun,
They said they had to investigate a public indecency offense because my arse was on show in the video. Never mind the fact me and Craig had sex up against the counter or that I gave him a blow job moments before. Craig is apparently in the clear because his clothes stayed on. You couldn't make it up.
The 28-year-old was asked to come to her local police station under caution for a voluntary interview — but because she didn't turn up, she could be arrested.
However, Craig, 31, will not face legal action, despite clearly receiving oral sex in the 40-second clip filmed inside the takeout joint.
After becoming famous for their overwhelming thirst, the couple revealed they have had sex on a bus, on a train and in a swimming pool, which is the very definition of #RelationshipGoals. (Right? Right?!)
But Daniella sounds pretty peeved that he's getting away with it despite being the one who made the move, so I'm guessing the brazen public sex might be on hold for a while.
A spokeswoman for North Yorkshire Police confirmed Daniella was due to come in for an interview, but never showed up.
Citations: DEEP-PORN PIZZA PROBE Barmaid filmed romping with her boyfriend in Domino's faces arrest – but fella will escape police action (The Sun)