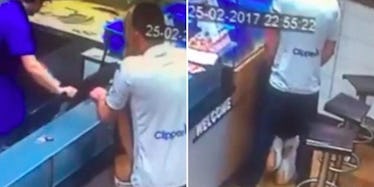 Couple Has Sex In Restaurant While Cashier Awkwardly Takes Their Order
Social Media
We all have those annoyingly lovey-dovey couple friends who have absolutely no chill when it comes to PDA.
However, there are some shameless couples out there who take PDA to an entirely new (and pretty disgusting) level.
Remember when we told you about the frisky couple who filmed a sex tape in the toy aisle of Walmart?
Well, if you thought that mid-shopping sexcapade was pretty bad, you might want to cover your eyes.
We just came across a video that shows a savage couple having sex in a restaurant and these two will definitely make you lose your appetite.
According to The Sun, surveillance cameras recently recorded a couple ordering take-out at a Domino's restaurant.
It's not hard to see these two were in the mood for a hot, steamy pizza... with an extra side of sausage.
That's right. The CCTV footage shows this couple having sex right in the middle of the restaurant while the poor Domino's cashier awkwardly stands behind the counter and takes their order.
Talk about dinner and a show that nobody ever asked for.
After giving their order to the cashier, the man continues to give it to his girlfriend while they wait for their food.
In the video, you can see the woman's pants pulled down as the man stands closely behind her, so yeah, it's not hard to figure out what's going on here.
Apparently, having sex in the corner of the restaurant wasn't enough to satisfy this couple's sexual appetite.
Shortly after, the woman decided to take a taste of her man's pepperoni by dropping down to her knees for an impromptu BJ in broad daylight.
The couple's restaurant rendezvous later surfaced on social media.
If your trying to tell me ya av never got a bit frisky in a random or public place then ya fucking boring haha.
The woman shrugged off the saucy surveillance footage, writing,
Everyone's been ringing us thinking we would be mortified we both just laughed worse things happening in the world than him getting blown off in Dominos hahaha.
"Rule number 1 never waste ya boyfriends boner and always opt for stuffed crust," she wrote.
The explicit 30-second video clip was posted on Twitter by someone claiming to be a Domino's employee.
If you ask me, this couple wold have been a lot better off with buying a DiGiorno's pizza and doing the deed at home.
Citations: Randy couple 'caught having sex in Domino's while ordering takeaway in seedy in-store CCTV romp' (The Sun)