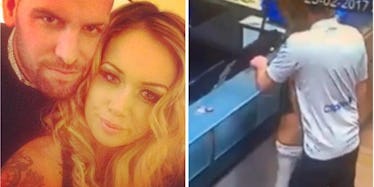 Couple From Viral Domino's Sex Video Share All The Places They've Had Public Sex
Facebook
Remember that completely shameless couple who started having sex in the middle of a Domino's?
Well, rather than avoid the spotlight and hide indoors forever, they've spoken out about becoming internationally notorious for their overwhelming thirst for lust.
The internet was shocked when surveillance footage from inside the pizza takeout joint showed a man and woman having sex while they awaited a 12-inch pepperoni.
Now, they've been named as Craig Smith and Daniella Hirst — and they told The Sun how they ended up pulling their underpants down in a ridiculously public setting.
Apparently, the couple from Yorkshire, England, love a bit of public sex, and Domino's is just the most recent weird place where they've done the deed.
Craig, 31, said,
Our top five include a bus, a van, a hotel, swimming pool and a field. We wanted to see if we could top it. We got a bit frisky and one thing led to another. Domino's is definitely now our number one - going to be hard to top it.
The pair have only been dating for three and a half months, so if you check back in a year's time, they'll probably have screwed each other's brains out on a plane, while skiing down a mountain, and on Mars.
Meanwhile, 28-year-old Daniella has come out swinging against the couple's critics, describing them as "fucking boring," which is nice.
Going into WAY too much detail (then again, the whole world has seen them having sex in a Domino's) she confirmed they picked up where they left off when they got home.
I'm assuming they let the pizza get cold, which is a heinous crime, but I digress.
She added,
We won't do it in Domino's again. Maybe Pizza Hut.
Despite the chance they could be arrested for public decency, they said they "just laughed" when they realized people across the world had seen the clip.
Daniella was equally feisty on Facebook — defending them, she wrote,
Rule number 1 never waste ya boyfriends boner and always opt for stuffed crust.
Allow me to add rule number two: Don't have sex inches away from a Domino's worker while you're trying to order a pizza.
Oh, and if you happen to work at a Pizza Hut in Yorkshire, look out. They're coming.
Citations: The Sun