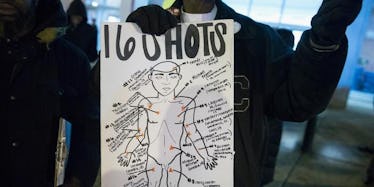 Your Cheat Sheet For What's Going On With The Chicago Police Department
Getty Images
Attorney General Loretta Lynch announced on Monday the Department of Justice will investigate the Chicago Police Department.
This is big news, but what exactly is the DOJ looking into?
Lynch said:
[The DOJ] will examine a number of issues related to the CPD's use of force, including its use of deadly force; racial, ethnic and other disparities in its use of force; and its accountability mechanisms, such as its disciplinary actions and its handling of allegations of misconduct…
The Chicago Police Department is widely recognized as being corrupt and following alarming, racist practices.
Here's your cheat sheet on the shady sh*t the Chicago Police Department has to account for.
1. The shooting of Laquan McDonald
Laquan McDonald was a 17-year-old black teenager who was killed by Chicago Officer Jason Van Dyke, who is white, on October 24, 2014.
Cops were called in with reports of McDonald breaking into trucks and stealing radios. McDonald was carrying a knife and reportedly slashed the tire on a police car when several police cars appeared on the scene.
The autopsy showed Van Dyke shot McDonald 16 times. McDonald was found to have had the drug PCP in his system.
The city agreed to pay McDonald's family $5 million back in April -- before a lawsuit had been filed. This could indicate the city wanted to keep the family quiet about the shooting.
CPD Superintendent Garry McCarthy was fired by Mayor Rahm Emanuel at the beginning of December in the wake of public outrage over McDonald's killing. Many believe Emanuel used McCarthy as a scapegoat to satisfy people's anger.
A police report said McDonald "raised the knife over his chest and over his shoulder, pointing the knife at Van Dyke."
Dashcam video from a police car of the shooting appears to contradict that account.
2. Video of the shooting
The police dashcam video of the shooting was released on November 24, 2015 -- a full 13 months after McDonald was killed.
The video was only released by a Chicago judge's order after freelance journalist Brandon Smith filed a Freedom of Information Act lawsuit.
The video appears to show Van Dyke swiftly shooting the teenager multiple times, even after he had fallen to the ground, highlighting discrepancies from the police report.
The shooting occurred near a Burger King, which has surveillance cameras inside and outside. Jay Darshane, District Manager for Burger King, told NBC News in May police officers spent three hours with the surveillance footage after the shooting.
When an investigator from the Independent Police Review Authority came to view the footage the next day, they found 86 minutes were missing from the footage -- which included when the shooting happened.
Darshane told NBC News he believed the footage had been deleted by the police officers.
Police and Cooky County prosecutors, however, said there was no evidence the video was tampered with.
*Chicago city lawyers met with Mayor Emanuel in late March 2015 and discussed the video, according to emails obtained by the Daily Beast in January 2016. The lawyers then wrote a draft of the $5 million settlement to McDonald's family that included an attempt to hide the video from the public for years.
This was going on at the same time the city was voting on whether or not to keep Emanuel in office. The uncovered emails are fueling more calls for Emanuel to resign as mayor.
3. Unaddressed complaints against officers
The police dashcam video was released the evening of November 24, 2015. That morning, Van Dyke was charged with murder. This was the first time a Chicago police officer was charged with first-degree murder for an on-duty shooting in nearly 35 years.
He will face a minimum of 20 years in prison if convicted.
With over 14 years in uniform, at least 20 complaints were filed by civilians about Van Dyke. Of Chicago's 12,000 officers, only 402 have 20 or more complaints, CNN reported.
None of the 20 complaints resulted in discipline.
This is pretty typical for the Chicago Police Department. As the New York Times reported, the department has a history of inaction in the face of civilian complaints. Of the 28,500 complaints filed from 2011 to 2015, 97 percent resulted in no punishment.
4. Racial bias in the department
Of the few officers who were disciplined from complaints, the New York Times found, African-American officers were twice as likely to be punished. Moreover, white civilians were more likely to have their complaints taken seriously.
The Chicago Police Department is dealing with a history of racial bias. Last April, Chicago Mayor Rahm Emanuel supported a plan to pay $5.5 million in reparations to torture victims.
The victims were tortured under former Chicago police Commander Jon Burge. Between 1972 and 1991, at least 120 men -- most of whom were black -- were tortured under Burge to force confessions.
The police department is frequently accused of continuing to have normalized racism. A photo of two white cops posing with a black man wearing antlers was released in May 2015, apparently serving as an example of a racist environment.
5. The Homan Square "black site"
Last February, the Guardian published a startling investigation into a creepy secretive police compound called Homan Square.
The Guardian found people are taken into a warehouse without being added to official databases and are denied access to attorneys. They are held for apparently indiscriminate amount of times, and some were beaten and shackled.
Eighty-two percent of the over 3,500 people brought to Homan Square were black, the Guardian reported in August, and only three were reported to have visits from an attorney.
The department has insisted this site is perfectly legal and like an undercover police base.
Attorney General Lynch said Homan Square is not currently being specifically investigated by the Department of Justice, but they are paying attention to it.
*Editor's note: This post was updated on 1/7/2016 with new information about attempts to hide the dashcam video.